**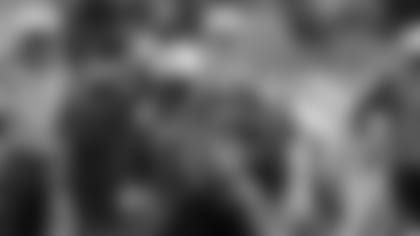 Veteran wide receiver Randy Moss said he is open to returning to the Titans next season.
NASHVILLE, Tenn. --** The Tennessee Titans haven't thrown a ball to Randy Moss in two straight games, and the veteran receiver has been bumped to the bench for a second-year player.
So, of course, Moss is speaking his mind.
But the well-traveled receiver isn't trying to talk his way out of Tennessee. In fact, Moss sounds like he's trying to talk the Titans into keeping him around after this season because he believes he still has a couple strong seasons left.
"I just want to give the league and the fans something to remember me by, and hopefully if it's not here in Tennessee it'll be somewhere else," Moss said Wednesday. "I wouldn't mind staying here in Tennessee I really wouldn't."
The 13-year veteran is only under contract through the final two games of the season with the Titans (6-8) -- who benched him Dec. 9 in favor of Kenny Britt. Moss has just gone through the first two games of his record-filled career without having a single pass thrown to him.
Before this stretch, Moss only had one game in which he was not thrown to at least once, and that was Oct. 24, 2004, when a pulled hamstring kept him from playing in a Minnesota victory over this very franchise. Moss' only complaint about not being used is that he knows how disappointed the fans are that keep chanting his name wanting to see him work.
"As a player, it hurts me deep down inside that I want to be out there helping the team and listening to the fans. You know they're chanting my name. I want to make plays. I want to bring them out of their seats because that's what I'm used to doing," Moss said.
For anyone thinking Moss is finished at 33, he insists he's still running with the 20-year-olds even if it takes him longer to warm up these days.
"I still can compete. I still can get open. Really this organization's been good to me. My production has definitely not been where I want it to be or where the organization wanted my production to be," Moss said. "When it comes down to it, I think man that they're happy with where they're at right now with me, and I'm happy where I'm at."
Moss has only 27 catches for 375 yards and five touchdowns this season -- with all but the TD catches on pace to be the worst of his career. That's a big drop for the receiver who ranks second only to Jerry Rice for most TD catches, 100-yard receiving games and most games with two TD catches or more.
If he catches a TD with Tennessee he will become the first player in NFL history with a TD reception with three different teams in a single year. The Titans, who play at Kansas City on Sunday and finish the season at Indianapolis, are just 1-5 with Moss.
Coach Jeff Fisher said earlier this week it wasn't a mistake for the Titans to claim Moss off waivers and that the receiver hasn't expressed any frustration with his role in this offense. Fisher also doesn't think Moss' lack of production is due to diminishing skills.
"He's practicing fine. He's making plays. You see him make plays and run by people on the practice field. It just hasn't happened (in a game)," Fisher said.
Moss also sees Nashville as a perfect fit for the self-described country boy from West Virginia and wouldn't mind staying here if he gets the chance.
"There's a lot of history here, and football is one of the many things they have going on in this city. I'm a country boy in a country city. I love it man, and like I said I can't speak enough about the people and the fans," Moss said.
NOTES: DE Jason Babin (shoulder), K Rob Bironas (right groin) and QB Kerry Collins did not practice Wednesday. DT Jason Jones (shoulder) was limited with LB David Thornton (hip). DT Sen'Derrick Marks (right ankle) practiced fully.