NASHVILLE, Tenn. —**Titans safety Michael Griffin and linebacker Colin McCarthy stopped by the ticket office on Thursday to call season ticket holders and thank them for renewing their seats for the 2013 season.
Griffin and McCarthy went through separate lists of Titans fans. They reached some on the phone, left voice messages for others and paused for some conversations and photos with fans who swung by LP Field to make their renewals.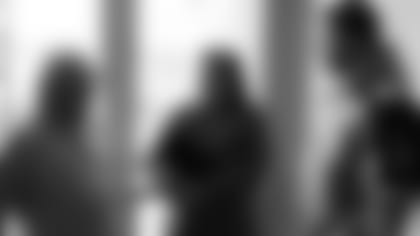 "It was pretty cool," Griffin said. "Some people were excited, some people didn't believe it was me or Colin. It was a great experience to be able to thank the fans. They support us, and we support them and it's great to be able to give back."
There were a few fans who were surprised and maybe skeptic that they were being pranked, but they soon realized they were talking to the Titans defenders.
"It was fun to make some phone calls, leave some voice mails and talk with some people just to say thank you for their support and let them know that we're excited for the season and glad that they're going to be part of it," McCarthy said. "They were a little surprised, a little shocked I guess, but once they got on the phone, they just started talking, asking some questions.
"Obviously they're excited about the season, excited to see what changes we're going to make to make a run for the playoffs," McCarthy said. "I think that's a big one here in Nashville, for us to get back into the playoffs, and as a team, I think we're heading in the right direction."
Griffin's list randomly included one of his neighbors. Griffin enjoyed catching up with her and learned she now has a grandson in his hometown of Austin, Texas.
Longtime season ticket holders Donnie and Julia Vaughn of East Nashville were excited to meet McCarthy, who they said is their favorite player. Donnie and McCarthy exchanged handshakes, while Julia opted for a big hug.
"That guy plays his rear off," Donnie Vaughn said. "He has a high motor and doesn't back down from anybody."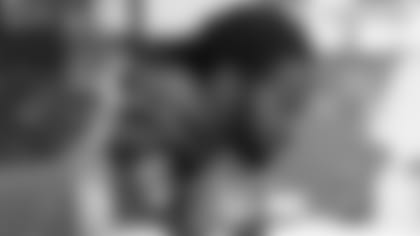 Griffin and McCarthy said they enjoyed the excitement that fans expressed on the final day of February, eight weeks before the 2013 NFL Draft and more than seven weeks before the team's first offseason workout is scheduled.
A couple of fans asked how McCarthy was doing in his recovery from the ankle injury and concussion that cost him nine games of his second season. He was pleased to relay good news.
"I'm getting better," McCarthy said. "Last year was a rough year for me and it was hard on me, but that's behind me. I'm getting better and feeling better so I'm ready for (organized team activities), ready for camp and excited for next season and what we're going to do."
McCarthy said he is looking forward to playing for new linebackers coach Chet Parlavecchio.
"It's going to be exciting. He's played the position. He has a real passion for the game, he's a real vocal, real energetic coach," McCarthy said. "I had a chance to work with him a little last year on special teams, but now I'm going to be working with him every day in position meetings and on the field. It's going to be exciting, and I think as a group, we're excited for the change."
Griffin has been alternating his time between Austin and Nashville. He's putting himself through extensive workouts and has gained about 10 pounds, weighing in about 217, he said.
Griffin said he looks forward to meeting recent free agent signee George Wilson and welcoming the veteran strong safety to the position group. Griffin said he's also excited about the addition of senior defensive assistant coach Gregg Williams.
"I spoke to him. He sounds like he's got a lot of excitement with him. I'm looking forward to it," Griffin said. "I talked to Keith Bulluck and some of those guys who could tell me how he was. They had nothing but great things to say about him, and I'm looking forward to having him out there with us and getting this thing turned around on defense."