**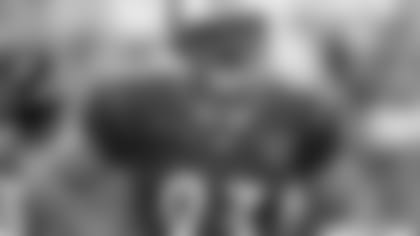 Defensive end Kyle Vanden Bosch (pictured) and center Kevin Mawae were added to the AFC Pro Bowl roster on Monday.
NASHVILLE, Tenn. –** The Titans now have four players going to the Pro Bowl.
The NFL announced Monday that center Kevin Mawae and defensive end Kyle Vanden Bosch have been added to the AFC Pro Bowl squad, joining teammates Chris Johnson and Vince Young at the NFL's annual all-star game to be played Sunday in Miami.
Mawae will play behind starter Nick Mangold of the Jets, replacing Colts center Jeff Saturday, who was forced to withdraw following his team's victory in the AFC Championship Game. Sunday's playoff results also allowed Vanden Bosch to move ahead of Colts defensive ends Dwight Freeney and Robert Mathis and into the starting lineup opposite of Houston's Mario Williams.
Mawae was part of an offensive line that led the league in rushing average (5.2 yards per carry), paving the way for Johnson's historic 2,000-yard rushing season. Tennessee's offensive line also ranked second in the NFL for fewest sacks allowed with 15.
"I think somebody around the league noticed the fact that we had two guys that were alternates on the offensive line – myself and Michael Roos," said Mawae, who was named to his eighth Pro Bowl and will play in the game for the seventh time. "C.J. didn't do everything by himself. Whether you go as an alternate or you go as a chosen person, it's still an honor to go and I'm happy to go represent my team."
Vanden Bosch, meanwhile, earned his third Pro Bowl after a season in which he posted only three sacks, yet maintained his reputation as one of the NFL's hardest-working players who never takes a play off.
"For me, it came as a surprise because I didn't statistically have a great year. Obviously, I wasn't high on the fan votes, so that means a lot of players and coaches have a lot of respect for me and the way I play," Vanden Bosch said. "I don't ever make promises about how many tackles or sacks I'm going to get. I just go out there and play as hard as I can every week and prepare as hard as I can. One thing that has been consistent with me throughout my career is I'm going to give you all I've got. Not only do my coaches and teammates recognize that, obviously other people around the league recognize that."
Mawae, who has seen first-hand the type of effort Vanden Bosch gives each day in practice, said Tennessee's offensive line is more likely to vote for a player with that type of effort vs. a high stat player that takes plays off.
"Obviously stats play a big part of it and that's the first number that everybody looks at, but then there are intangibles that you can't measure – how hard a guy plays, how much difficulty does he create for the opposing team?" Mawae added. "A guy like Kyle, you know you have to double-team him and chip him all the time. He might not get 18 sacks a season, but it sure takes a whole lot of effort and game planning time to prepare for him, and it's worth being noticed.
"I've seen how hard he plays in practice and in games. He's definitely the epitome of you play like you practice."