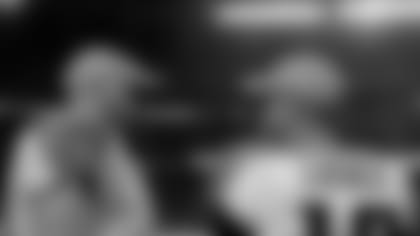 Matt Hasselbeck and Jake Locker discuss strategy during the Titans game at Atlanta. Locker relieved Hasselbeck (elbow injury) and nearly sparked a comeback win.
NASHVILLE, Tenn. — Jake Locker can resume enjoying the entertainment value of the NFL Draft.
It will be easier to do tonight than a year ago when his future hinged on decisions of NFL executives, scouts and coaches.
The Titans tabbed Locker in the first round with the eighth overall pick a year ago, but the dramatic effect of being in the field decreased the entertainment level that the young quarterback had grown to appreciate when he watched previous results on television. This year, the QB said he will enjoy watching results on television and look forward to the announcement of potential teammates. 
"It seems like it was a long time ago, actually," Locker said earlier this week. "It's a lot different feeling this time of year than it was last year, a lot of different emotions: excitement, some nerves, a sense of unpredictability. There was a lot of uncertainty around where I was going to get drafted. I didn't know if it was going to be the first day or in the second round. I wasn't sure where I was going to end up going."
The Titans own the 20th overall pick in the first round of tonight's draft. It starts at 7 p.m. (CT), resumes with the second and third rounds Friday and concludes Saturday.
Tennessee drafted Locker in April and signed veteran QB Matt Hasselbeck in July. Hasselbeck started all 16 games last season, captained the offense, became the second player in Titans/Oilers franchise history to throw for more than 3,500 yards and mentored his rookie protégé and third-string QB Rusty Smith.
Locker, meanwhile, appeared in five games, logging significant time when injuries sidelined Hasselbeck at Atlanta, against New Orleans and at Indianapolis. He showed some explosiveness while learning the Titans' system.
Hasselbeck and Locker want to be the starting quarterback in 2012, and they both want the Titans to have a great season. Titans coach Mike Munchak has said the position is an open competition in the upcoming season.
"Oh, it's on, baby. It's on," Hasselbeck joked this week when asked about the competition.
"I don't think anything changes, really for us, other than the fact that we have to talk about it," he continued. "I've been through it just about every year. Sometimes I've been the guy on top or the guy trying to get to the top. It's always different, but I think being unselfish, putting the team first and healthy competition is always good and it's always there."
Hasselbeck was drafted in the sixth round with the 187th overall pick by Green Bay in the 1998 NFL Draft. He spent time early in his career as a backup to Brett Favre before the Packers traded Hasselbeck to Seattle in 2001. Hasselbeck spent the decade as the Seahawks' starting QB, but believes competition should exist for every position in the NFL.
Locker said he agrees and added that the biggest change this offseason is the opportunity to spend more time with coaches, participate in team activities and go through a full training camp. He said those opportunities, which were blocked by last year's lockout, should help both QBs.
"I don't think it changes how I'm going to approach the season or this offseason or anything," Locker said. "I went with the attitude last year that I was going to prepare as if I was starting, and that's the same thing I'm going to do this year: just make sure that when I do get my opportunity, whether it's as a starter or as a backup, make sure that I'm prepared for it, take advantage of it and make the most of it."
Locker said he expects to continue the positive relationship that he and Hasselbeck enjoy, regardless of who is picked to start this season.
"I think that Matt and I have a good relationship," Locker said. "It's one that I do my best to support him if he's going to be in the game, and I know he'll do the same for me. At the end of the day, we want this team to have success. Whether it's him or me, we're going to do everything within our power, whether we're on the field or not, to help us win games.
"I'm going to do everything I can to make myself the best player I possibly can and help this team win games to the best of my ability," Locker continued. "I don't think it's a thing where you've got to look at what Matt does and what I do and figure out what I've got to do to beat him, I've got to do whatever I have to do to make myself the best player I possibly can. In doing that, you hope that it's good enough to win you the job. I know that Matt will approach it the same way. In the end it's going to make both of us better, I truly believe, because we'll be pushing each other and will get the best out of each other."