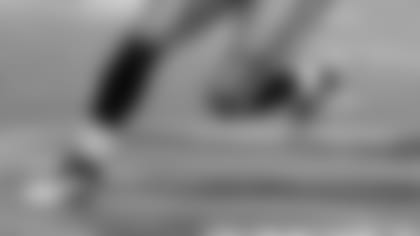 Rookie QB Jake Locker was impressive during  his first extensive playing time of the season.
ATLANTA - Jake Locker threw two touchdown passes in a comeback attempt that fell short, giving the Tennessee Titans a promising first extended look at their quarterback of the future in Sunday's 23-17 loss to the Atlanta Falcons.
Locker took over late in the third quarter after Matt Hasselbeck went out with a sprained right elbow, having endured an ineffective day even before he was hurt.
Hasselbeck's status for next week's game against Tampa Bay is uncertain. He had ice on his arm after the game and said he expected to have tests on the elbow on Monday.
The Titans trailed 23-3 when Locker, the No. 8 overall pick in this year's draft, entered the game. He played so well while throwing touchdown passes of 40 and 4 yards to Nate Washington that coach Mike Munchak made sure to note Hasselbeck is the starter if healthy.
"If Matt is fine, he's the quarterback,'' Munchak said. "There's no doubt about that.''
Hasselbeck completed 13 of 25 passes for 124 yards with an interception before he was hurt when he was hit on his arm as he was trying to make a pass.
Locker took over for the next possession and on his third snap threw a 40-yard touchdown pass to Washington.
The Falcons were driving for the clinching score when running back Michael Turner had the ball knocked loose at the Tennessee 8 by Colin McCarthy. Will Witherspoon fell on the ball, and Locker guided Tennessee on a 14-play, 84-yard drive capped by a 4-yard scoring pass to Washington with 3:06 remaining.
The rookie made a 22-yard pass to tight end Jared Cook on a fourth-and-17, and he scrambled for 11 yards on a third-and-10.
Hasselbeck said he was cheering from the sideline.
"It's fun to see,'' Hasselbeck said. "I think what we didn't expect was some of the heroics, like the fourth-and-17 ball or when he took off running the ball. That was great to see.
"I'm really happy for him. I know what it's like to throw your first touchdown pass and he was excited.''
Locker appeared in only two games before Sunday, completing one of two passes. This was his first real chance to show why he was a high first-round pick from Washington.
"It was a lot of fun,'' Locker said. "I would have liked a better outcome, but it was fun to be out there competing.''
Locker said "it won't be a distraction to either of us'' if there are more questions about who should start at quarterback for the Titans (5-5).
"Matt and I are good friends,'' Locker said. "We're close to each other, we want each other to have success.''
Munchak said he wouldn't make a change at quarterback based on "a couple quarters of football.''
"Just a couple weeks ago we were talking about how well Matt was playing,'' Munchak said. "He was the reason we had five wins.''
Locker was 9 for 19 for 140 yards with two touchdown passes. He had one carry for 11 yards, leaving him only 2 yards behind Chris Johnson, who had 12 carries for a season-low 13 yards. It was a return to Johnson's frustrating season one week after he ran for 130 yards in a 30-3 win at Carolina.
"You go back to the last game and I got 130 and everything was good and you come back to this game and nothing is working,'' Johnson said. "It goes back to the offense not executing, not being consistent.''
Falcons coach Mike Smith said his defense placed a priority on containing Johnson.
"One of the `musts' that we had going into this ballgame was that we must stop Chris Johnson,'' Smith said. "This guy is a dynamic running back and if he gets around the edge and around the corner and if we don't leverage the ball properly, then we are not going to have success. We did a very good job.''
Roddy White had seven receptions for a season-high 147 yards for Atlanta, which managed to run out the final 3:06, keeping Locker on the sideline. Matt Ryan completed a third-and-6 pass to Harry Douglas that was barely enough for the first down.
Atlanta (6-4) jumped out to a 13-0 lead on Ryan's 17-yard touchdown pass to Tony Gonzalez and a pair of short field goals by Matt Bryant. Turner stretched the lead to 20-3 with a 4-yard touchdown run on the opening possession of the second half, but Turner's fourth-quarter fumble deep in Tennessee territory allowed the Titans to get back in it.
The Falcons were solid if unspectacular, while the Titans simply made too many mistakes to win on the road for the second week in a row. Tennessee was penalized 10 times - two of which came on third downs to extend Atlanta scoring drives - and Hasselbeck threw an interception that led to the first of Bryant's three field goals.
Turner had 21 carries for 100 yards and one touchdown. Ryan completed 22 of 32 passes for 316 yards and one touchdown.
NOTES: Bryant connected from 19, 33 and 24 yards and is 18 of 19 on the season. ... Tennessee didn't cross midfield until late in the second quarter, driving into position for Rod Bironas' 46-yard field goal with 2 seconds remaining in the half. ... Gonzalez also became just the 13th player in NFL history to go past 13,000 yards receiving. He finished with six catches for 74 yards.