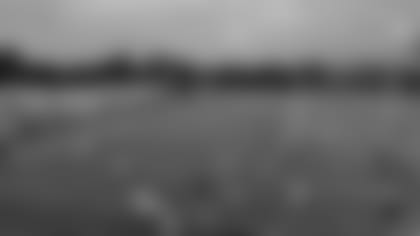 NASHVILLE, Tenn. --** With a growing crowd arriving Tuesday night at Baptist Sports Park, the reports of a major lightning storm began to surface to Titans officials. With a wary eye on the radar and the skies for signs of lightning strikes, the Titans began practicing outside under the lights, with eager fans looking on. Unfortunately, within minutes of beginning practice, a flash of lighting was seen in the distance and practice was quickly moved inside the team's practice bubble.
"We were looking forward to having the practice session outside," head coach Jeff Fisher said. "But you have to deal with the weather and put the players' and the fans' safety first and foremost. That's what we did and we got in what looks like in the nick of time."
There was a buzz in the air while players warmed up outside, and it seemed that Titans fans were in for what would have been an exciting and intense practice. The storms, which have habitually rolled through the Nashville area this summer, had alternative plans on what otherwise seemed like a perfect summer night for football.
Safety Michael Griffin was looking forward to entertaining the fans who came to watch practice under the lights.
"We were going on all cylinders and playing physical. The offense was going too," Griffin said. "I guess we were ready to give the fans a show for the night practice and it was too bad the weather came."
Fortunately for fans who were hoping to see their Titans under the lights, the team has another night practice scheduled for Tuesday, Aug. 18 at 7:30 pm.
PHASE I COMPLETE: With an off-day coming on Wednesday, coach Fisher seemed to see tonight as the last practice of the first phase of training camp. Separating camp into sections and setting goals for those sections is something that could be helpful in the preseason development process.
"We got what we needed to get done," Fisher said. "Overall I'm pleased with where we are and what we've got going. We got a lot of offense and defense in. We have one good day left of camp and then Friday we'll start our preparation for the game."
Players will have meetings, lift weights and have a light walkthrough, but no practices. The idea is to let the players' bodies recover before they hit practice hard one more time prior to Sunday's preseason opener.
Griffin said his body is conditioned to wake up at 6:30 a.m., so he wasn't sure whether he would even be able to give his body as much rest as it deserved, thinking he might only "sleep in" until 7:30 a.m.
CHIPPINESS INDOORS:  After a particularly physical section of 11 on 11, linebacker Keith Bulluck and center Kevin Mawae engaged in a seemingly serious, but truthfully lighthearted jawing at one another. Bulluck felt he had been held by a Titans offensive lineman during a screen pass, while Mawae thought it was a clean block.
"It was just some back and forth banter and it was all in fun," Mawae said.
Players were talking with the game officials, pointing out that it is important for penalties like that to be called now so they won't carry over into the games.
"That's going to happen from time to time," Bulluck said. "We're competing against one another and tempers are definitely going to flare. As you saw, we laughed it off and we're all teammates at the end of the day and we're just out there competing."
Added safety Chris Hope: "Anytime you put the lights on or we go inside the bubble, practices are three times faster, the energy is up, the tempo is up. Sometimes we can get a little excited with each other and chippy, but for the most part we had a good practice." Hope said.
BRITT UPDATE: Fisher is still hopeful that wide receiver and first round draft pick Kenny Britt will play this week. Fisher said Britt will have to practice before he is allowed to play in Sunday's game, which means he will have to get his conditioning level back up to his normal state.
"The hamstring has healed itself through treatment and work," Fisher said. "Because he spent so much time in the treatment, he's behind in conditioning. It can expose him to re-injury in that muscle because he doesn't have all his strength back."
DAVID KETIH AT PRACTICE:  Actor David Keith, the cousin of Titans play-by-play man Mike Keith, was at practice tonight. David Keith has acted in films such as The Great Santini, Brubaker, An Officer and a Gentleman, Firestarter, Major League II, U-571, Men of Honor and Behind Enemy Lines.