NASHVILLE, Tenn. (AP) — Unlike his millionaire teammates, Brett Brackett doesn't go to a mansion after work. Home for the Tennessee tight end is a bedroom in an apartment shared with three Titans practice squad players — any of whom could be gone in 24 hours. He's bounced himself from practice squad to roster and back again with the Titans and Seattle Seahawks nine times since September.
So short-term rentals are a must when it's time to pack up and move on.
"It's nice to have a month-to-month thing so you're not locked in or somebody you can split rent with like that," Brackett said.
Chasing an NFL job leaves no time to be choosy about roommates or living conditions, and opportunities abound as the NFL season winds down. Through Wednesday, 279 players are on injured reserve around the league according to STATS. Teams juggle rosters, signing and releasing players to have enough before the next kickoff. That keeps players bouncing between practice squads and rosters hoping for the right fit at the bottom of an NFL roster.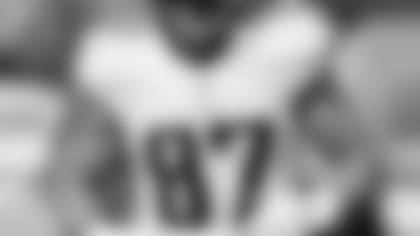 "Guys who come along who have a chance at this point in the season to perform, to play and they go into games and have an opportunity to participate at this level when perhaps they had no snaps coming in before," said New York coach Tom Coughlin, who has a league-high 19 Giants on IR. "Now they're going to get snaps and they have a chance to prove their ability, not only to the New York Giants but to the entire NFL."
Teams also sign players with an eye to next season.
"You see that happening on the wire every day," Titans coach Ken Whisenhunt said. "Teams are trying to look at the back end of their roster and improve it and get opportunities. So yeah, it is an opportunity for some guys."
Like Brackett, a 6-foot-5, 251-pound tight end out of Penn State.
Brackett entered the NFL as an undrafted rookie in 2011. Now he turns 27 on Saturday having spent at least a few days with six different teams, including stints on the practice squads in Miami, Jacksonville, Philadelphia, Tennessee and Seattle. Some stops have been as short as two days. An injured knee three days after being claimed off waivers by the Jaguars in 2012 meant a whole season on injured reserve.
This year has been Brackett's busiest. He started with a futures' contract in Arizona in January before detouring through Miami and Tennessee with a quick stop in Seattle. The Titans have signed him the most, adding him to the practice squad three different times and later promoting him to the active roster before waiving him a couple days later. Seattle claimed Brackett off waivers Oct. 21 only to cut him a week later, then signed him to the practice squad Oct. 30 only to see Tennessee poach him back by signing him to the roster once again Nov. 5.
Even all those moves, Miami stands out.
"I went into camp the third day with Miami, then three days later I was cut because they had issues at another position," Brackett said. "Then four days later they re-signed me, and three days later played in the first preseason game had three catches for 60 yards. That was within seven days I was on and off a team and then playing."
He enjoyed a quick weekend at home in Doylestown, Pennsylvania, with the Dolphins saying they'd likely bring him back.
"Teams have said that before, and it doesn't exactly happen, things don't work out," Brackett said. "This time it did. I went home, worked out a couple days and stayed ready hoping if that didn't work out something else would have."
Staying in football shape can be a challenge. Brackett has options thanks to a former assistant strength coach at Penn State who now has the head job at Temple in Philadelphia a 45-minute train ride away, or a gym in town. He also can run routes at Delaware Valley College in Doylestown. In the offseason, he works with Uplifting Athletes helping raise money for rare diseases.
NFL teams arrange travel when signing or releasing a player and also pay for lodging at a hotel for the first week. Then the player is on his own looking for an extended stay hotel or apartment after that. The bedroom he's staying in now freed up when another player was cut.
But playing well matters most, so cram sessions with the new playbook are a must because even one word can mean something entirely different from team to team. The Titans are among those now using iPads also loaded with all the video needed for review. Some teams still require players to request video, making study less convenient.
"That accessibility is good because you can spend as much time as you want at night," Brackett said.
Brackett's favorite team is an easy answer: Tennessee. He has played in six games, starting the last three for a team with two tight ends on injured reserve, and that chance to play even for a team at 2-11 trumps being on the practice squad with a winner like Seattle.
"As much as I've been through, I'm looking for an opportunity," Brackett said.