NASHVILLE – Legends at the University of Alabama.
And, now, teammates with the Tennessee Titans.
Count running back Derrick Henry among those thrilled with the recent addition of receiver Julio Jones, a seven-time Pro Bowler who joined the team via trade earlier this month.
Henry and Jones, friends for many years, trained together in Dallas even before the team landed the future Hall of Famer. Back then, they only hoped they'd be together on the same team in 2021.
"I thought it would be cool to get him here, and be able to play with him," Henry said of Jones. "Everybody knows the type of player he is, and what he brings to the table. I was trying to do my best to pitch for him to get him here."
Titans General Manager Jon Robinson, of course, made it happen.
Henry and Jones have already enjoyed being together on the practice field during this week's minicamp. They've hung out during breaks in the action, chatting about football and other topics. Jones lined up to defend Henry during one light period this week. Later the same day, Henry watched as Jones went up high to catch passes in the end zone thrown by quarterback Ryan Tannehill.
Just the sight brought a smile to Henry's face.
When Henry won the Heisman Trophy at Alabama in 2015, Jones was already in his fifth year with the Falcons, having played at Alabama from 2008-2010. But the two managed to become friends after first meeting in Tuscaloosa.
"I'm glad to have him as a teammate, and excited to get to work with him," Henry said of Jones. "When I was at Alabama, he used to come back all the time, and I got to know him through that time. When I was coming out for the draft, I got to train with him when he came back to Bama as well. Just seeing him and hanging out with him in my time in the league, and seeing his body of work and how he plays, and what type of player he is…
"Coming from Bama, we both know each other's mindset and what we want to do. He's a great guy to have around. He's a humble guy, he loves to work hard, is a great teammate, and he's going to be a great asset for this team. He's a guy everybody can learn from, one of the greats to play this game."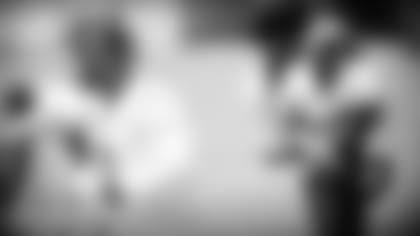 What the arrival of Jones means for Henry, the NFL's leading rusher the past two seasons, on Sundays remains to be seen.
But there's no question the presence of No.2 -- a 6-foot-3, 220-pounder who has amassed 848 catches, 12,896 receiving yards and 60 touchdowns in his 10-year career – can't hurt.
"He's a dynamic player, one of, if not the best, receivers in this league," Henry said of Jones. "So, he is definitely respected by defenses. I don't want to get into all the boxes, and different types of scenarios. I think we just want to put it all together while we're here, and just try to work and try to make each other better each and every day.
"He likes to work hard. I like to work hard. And that's all we're trying to bring to the table as far as being teammates. The whole team (mindset) is trying to make each other better, be a great teammate, and see what we can do."