NASHVILLE – Pro Football Hall of Fame enshrine Kevin Mawae recently donated more than 200 items from his career and life to the Hall, and many of those are from his playing days with the Titans.
Among the jerseys, posters, footballs, helmets, photos, notes, playbooks, newspaper clippings and pads, the following are some notable artifacts from Mawae's collection, according to the Hall of Fame:
-Mawae's game-worn AFL 50th Anniversary Tennessee Titans jersey from his final season in 2009.
-A game ball presented to Mawae while with the Titans in recognition of his 200th career game on Oct. 7, 2007 against the Atlanta Falcons. He was a part of an offensive line that did not allow a single sack that year.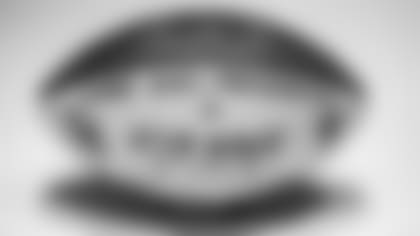 -Ed Block Courage Award presented to Mawae in 2009 during his final season in the league (with the Titans) after battling back from a torn tricep tendon in his right elbow in Dec. 2008.
Mawae played 16 NFL seasons (1994-2009), including four seasons with the Titans (2006-09). He began his career with the Seahawks and also played with the Jets before retiring after the 2009 season in Tennessee. Mawae was named to eight All-Pro teams, and eight Pro Bowls during his career while playing in 241 career games.
Mawae became the first established Titan without connections to the Houston Oilers to be elected to the Hall of Fame. Randy Moss was also elected to the Hall of Fame, but played just eight games with the franchise during the second half of the 2010 season.
"The history of the Tennessee Titans going all the way back to the Houston Oilers is significant," Mawae told Titans Online after being selected to the Hall of Fame in February. "There's a number of Hall of Famers and legendary coaches and teams. To be the guy that is strictly a Tennessee Titan, it is special. It is special for the state of Tennessee and the city of Nashville, and for the guys who are there now. We did some special things in the four years when I was there and I hope that I left a legacy there that the guys that come after me in that city and on that team would hope to achieve some of the things I did or hopefully make a bigger mark for themselves.
"So it is not lost on me that … I am just a Tennessee Titan and not a Houston Oiler/Tennessee Titan. It was special. It was special to be a part of that organization and I am thankful. I am thankful to Jeff Fisher for bringing me there and for Mike Munchak."
Many of Mawae's artifacts will be showcased in the Class of 2019 Locker Exhibit which is slated to open early this summer.
Mawae will be enshrined into the Pro Football Hall of Fame on Aug. 3.