NASHVILLE, Tenn. – Karl Klug hates watching.
Even though the Titans defensive lineman braced himself for what he figured would be a long offseason, it still hasn't been easy seeing his teammates practice throughout May and June without him.
Klug, who's recovering from a torn Achilles, is looking forward to the day he can return.
"I am sick of missing practices, I know that,'' Klug said. "But they have me on a good schedule, doing rehab, and I'm working hard to get back as fast as I can.
"My patience is actually pretty good right now. Obviously I really want to be out there. But as soon as I tore my Achilles back in December, I knew the recovery process so I mentally prepared myself for that. Obviously I am trying to get back sooner than that time frame."
So when will Klug be back? Coach Mike Mularkey said Klug "lives in this building and should have an address here" when asked about his commitment. But he also indicated Klug may need more time once camp starts in late July.
"Coach told us to keep our mouths shut as far as that goes,'' Klug said. "But I plan to work hard every day to try and make it happen as fast as possible."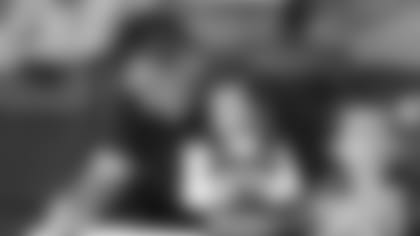 Mularkey said Klug did some of the walk-through periods in OTAs and minicamp, and thinks it's realistic he could be back at some point in training camp.
"He is moving around," Mularkey said. "Knowing him, and he has another six weeks before camp starts, he is one of those guys who will be ready for he is supposed to be."
The Titans value Klug. Proof came on the first day of free agency, when the team signed Klug to a new contract.
Klug initially joined the Titans as a fifth-round draft pick in the 2011 NFL Draft. Klug played in 14 games last season, and finished with 25 tackles and 1.5 sacks, before suffering a season-ending Achilles injury on December 18 at Kansas City. He's tallied 152 tackles and 20 sacks in six NFL seasons, in 94 games.
Known for his no-nonsense approach, and rugged style of play, Klug is popular with teammates, coaches and fans.
He likes what he's seen around him this offseason, and appreciates the Titans being patient with him.
"I love the culture here,'' Klug said. "And one thing I love about it is (General Manager) Jon Robinson and coach (Mike) Mularkey, they don't put themselves on a pedestal. We all know who the bosses are, those two, but they don't set themselves apart from us. They truly give you a feeling we are in it together, and that's great.
"And it's a great group of guys. We are moving around. I feel like everyone likes football, likes to run around. No one is going to complain about the workload. I like the guys we've got."
Despite the injury, Klug hasn't exactly been stationary these days himself.
While he's rehabbing to return to the field, he's been on his toes a lot at home. His wife, Stacy, recently gave birth to the couple's third child, son Ivan. Ivan joined brother, Rylan, and sister, Cora.
"It's been great,'' Klug said of the new addition. "My wife, she is basically taken care of the newborn. But I am keeping up with the other two, and those two are pretty wild. But it's been fun. I think I need to learn to have more patience there, I guess."
Defensive lineman Karl Klug signs a new contract to remain a Tennessee Titan. (Photos: Gary Glenn)