**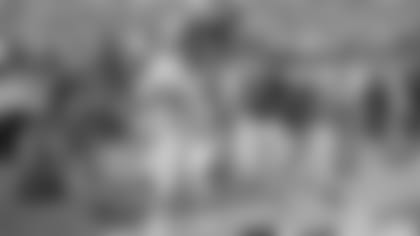 Chris Johnson is getting his offensive linemen Rolex watches for helping him achieve 2,000 yards.
NASHVILLE, Tenn. —** Chris Johnson hasn't given his offensive linemen their gifts just yet for a very good reason. The Tennessee running back was waiting to see how many yards he finished with so he could have the presents engraved.
So Johnson had no reason to hold back the surprise any longer Monday when he told reporters exactly what he had gotten his blockers: Rolex watches, engraved with "CJ2K" and 2,006.
That stands for Johnson making NFL history as just the sixth player to run for at least 2,000 yards in a single season and his final yards rushing. He finished with 136 yards rushing in Sunday's 17-13 win at Seattle, making him the first running back to reach that mark since Jamal Lewis in 2003.
Johnson said he was soaking in the accomplishment Monday when he talked with reporters.
"I'm trying to enjoy this time a little. This don't come across often so basically I"m trying to enjoy it and just get on the high life right now," Johnson said.
 Johnson even got called over by baseball star Ken Griffey Jr. after the game to discuss his historic mark, which the running back enjoyed because he grew up a fan of the outfielder. He also doesn't plan to change his offseason workout, which features sessions in Orlando and California and only joining the Titans for on-field sessions.
After all, why change something that worked so well? Johnson also is finding motivation in falling short of his ultimate goal: Eric Dickerson's single-season mark of 2,105 yards rushing.
"It's kind of a good thing and bad thing me not getting the record. That's something I can look forward to doing next year," Johnson said.
NO HOLD: One thing the Titans agreed on Monday is that nobody thought Ahmard Hall held on what would have been a 62-yard touchdown run that would have given Chris Johnson a chance at Eric Dickerson's single-season rushing record.
"No way that was a holding call," Johnson said. "That was not holding ... at all."
Johnson said he really believes he would've gotten Dickerson's mark if not for that holding call erasing his run.
Coach Jeff Fisher, co-chairman of the NFL's competition committee, said he was very disappointed in a penalty that should not have been called.
"I don't understand it. The disappointing thing about it is had it not been called, that would have changed things. We had the ball, we had eight minutes to go in the game and now we're looking at the all-time record. That would have changed our approach in the ballgame," Fisher said.
Center Kevin Mawae hadn't seen a replay as of Monday. He didn't like what he called a picky call affecting history.
"Chris was already halfway to the end zone, and Ed Hochuli hadn't thrown the flag yet. It wasn't til he was clearly 30 yards down the field before Ed came up and dropped the flag," Mawae said.
BULLUCK'S RECOVERY: Keith Bulluck needed crutches, but he arrived Monday to clear out his locker for what could be his final time as a member of this team. He isn't under contract after this season officially ends as he recovers from surgery to repair his left anterior cruciate ligament.
The 10-year veteran who started his 127th straight game when he tore his ACL on Dec. 20 isn't worried.
"I'm going to work hard to get back. It's up to what other teams want to do. That's not even the beginning of my concerns. My only concern is to get back on my two feet so I can start my rehabilitation process," Bulluck said.
WHITE'S FUTURE: Running back LenDale White played the good teammate as long as possible as Chris Johnson chased history and 2,000 yards. Now White wants it known he's ready to carry the ball for someone, whether it's the Titans or somewhere else.
White is among the five Titans who will be restricted free agents if 2010 is an uncapped season under the current labor deal. He understands that means another team could sign him to an offer sheet, leaving the Titans to either match or let him leave.
"I refuse to sit around and not get any carries anymore. If they feel like that's the best for me, I just ask them not to sign me back. I love to play. I compete. I don't want to be here if I don't get a chance to compete. That's the bottom line," White said.
White ran 200 times for 773 yards and 15 touchdowns in 2008. But he had only 64 carries for 222 yards and two touchdowns this season as the Titans gave the carries to Johnson in the pursuit of 2,000 yards.
NO RACING USAIN BOLT: So much for rumors that Chris Johnson would race Usain Bolt, the 100-meter gold medalist at the Beijing Olympics. Johnson said he heard two days ago that Bolt wants to race nothing less than 100 meters, while the running back prefers a distance closer to 50. So no race.
"The only person I would ever race is Usain Bolt. Anyone else? I'm not going to do it," Johnson said.
EXTRA POINTS: A coin flip will determine whether the Titans pick 17th overall or 16th. San Francisco currently stands at 16th based on a pick the 49ers received from Carolina. ... If the Titans thought their 2009 schedule was tough, wait until they see what awaits in 2010. Their home schedule will feature the usual visits from AFC South foes like Indianapolis, Houston and Jacksonville. They also will host Denver, Oakland, Pittsburgh, Philadelphia and Washington. The Titans will visit Houston, Indianapolis, Jacksonville with trips to Kansas City, San Diego, Miami, Dallas and the New York Giants.