**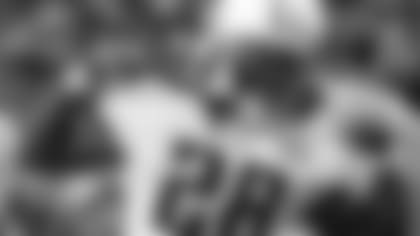 Titans RB Chris Johnson would like to run for another 2,000 yards and break Eric Dickerson's NFL single-season rushing mark in 2010.
NASHVILLE, Tenn. --** Chris Johnson's goals just keep growing bigger.
The Tennessee running back set the NFL record for yards from scrimmage while becoming the league's first 2,000-500 player in yards rushing and receiving in his second season. He also grabbed a handful of franchise records away from Hall of Famer Earl Campbell.
So what to do for an encore? Try this: CJ2K, the sequel.
And yes, the man who celebrated a touchdown banging on drums he found in the end zone wants it bigger and better than before.
"I'd like to be the first one to do that, get 2,000 (twice) in a row and for us to break Eric Dickerson's record," Johnson said.
What else from the man considered the NFL's fastest who ran away with The Associated Press 2009 NFL Offensive Player of the Year award? The second-year pro earned 38½ votes Wednesday from a nationwide panel of 50 sports writers and broadcasters who cover the NFL. Johnson easily beat New Orleans quarterback Drew Brees, who received nine votes.
The dreadlocked Johnson is nothing if not confident. Asked if he wants to match Campbell and Marshall Faulk's string of three consecutive Offensive Player awards, Johnson texted back, "Of course."
But he didn't nab a single vote for league MVP, so Johnson figures to aim for more history with consecutive 2K seasons as he shoots once again for Dickerson's single-season mark of 2,105. Johnson likes his chances considering his third season will be his first with Vince Young scheduled to start all 16 games at quarterback.
"I think about if he was playing from Week 1, see how many yards I'd have," Johnson said.
Johnson finished the season with 11 straight 100-yard rushing games, and now he's three away from matching Barry Sanders' record of 14 in 1997.
"I'm just happy to be a part of it, to make history with him," Young said. "He's going to be a great player. This is just his second year, that's the crazy part."
Titans coach Jeff Fisher thinks Johnson could be the first to double up on 2,000.
"He's special. He has the potential to go the distance and change games and do those kinds of things," Fisher said.
In his second season out of East Carolina, Johnson joined Campbell and Dickerson by running for at least 125 yards in six straight games. Johnson is the only player to average 5.0 yards per carry in each game of such a streak.
The man timed at 4.24 seconds in the 40-yard dash became the first NFL player to run for three touchdowns of 85 yards or longer in a single season. No player had even done that in a career before. His speed had opposing coaches joking about signing Usain Bolt just to prepare to defend Johnson.
"We have a guy who doesn't get caught from behind," Titans tight end Alge Crumpler said.
Johnson was at his best in November.
A franchise-record 228 yards rushing to start helped him finish with 800 -- the best month ever in the NFL. Fisher changed a platoon between Johnson, who split work with LenDale White as a rookie, to a solo operation. White had 12 of his 64 carries in the final nine games.
"I took a backseat to greatness," White said.
Johnson wound up with a league-best 358 carries for 2,006 yards with 14 touchdowns. He was 590 yards ahead of the league's second-best rusher, the biggest gap since O.J. Simpson was 859 yards better than John Brockington in 1973. And he still caught a team-high 50 catches for 503 yards with two more TDs.
If all the touches turned into too many hits for the budding star, Fisher isn't worried about wearing out the 5-foot-11, 200-pound back.
"He's unique. He could play 10 more games right now. He's rare. He'll rest up and take his time off. It's not going to take him long," Fisher said.
If Johnson tops 2009, that might earn him the votes for the MVP award he campaigned for in December. He wasn't happy at not receiving even one vote.
"Like the season I had, it seemed like, 'What more do they want me to do?' That just felt like rookie of the year; it's a quarterback thing I guess," Johnson said.
He lost the 2008 Offensive Rookie of the Year to Atlanta QB Matt Ryan.
Call it consolation, but Johnson outpaced the quarterbacks for this honor. League MVP Peyton Manning of Indianapolis received 1½ votes and San Diego QB Philip Rivers one.
"He did things that nobody's ever seen done in this league," right guard Jake Scott said.
The first Titan to win this honor, Johnson is the third in franchise history. Quarterback Warren Moon won in 1990 with the Houston Oilers, while Campbell won with the Oilers in 1978-80.