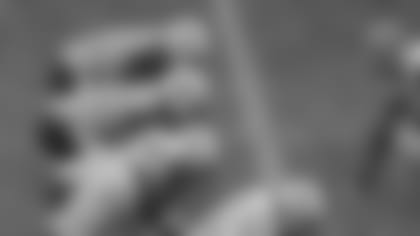 The Tennessee Titans offensive line is this week's winner of the Madden Protectors Award, presented by Prilosec OTC.
NASHVILLE, Tenn. –The TENNESSEE TITANSscored 21 first half points in Cleveland against the Browns en route to a blowout victory and their third win of the season. Playing penalty-free football, the Titans offensive line allowed quarterback MATT HASSELBECK(Boston College) to throw for three touchdowns while running back CHRIS JOHNSON(East Carolina) rushed for over 100 yards.  This impressive performance establishes the Titans offensive line as contenders for the third annual Madden Protectors Award, presented by Prilosec OTC.
The award honors the NFL's best offensive line and will be presented during the week of Super Bowl XLVI, which will be played on February 5, 2012 in Indianapolis. Past Madden Protectors Award recipients include the NEW ENGLAND PATRIOTS(2010) and the NEW ORLEANS SAINTS (2009).
The Madden Protectors Award *recognizes the fundamental role offensive linemen play in their teams' success by providing consistent and powerful protection day in and day out, just as Prilosec OTC can provide 24-hour heartburn protection when used as directed for 14 days.  For more information on the *Madden Protectors Award presented by Prilosec OTC, visit www.nfl.com/prilosecotc .
Tennessee recorded their third win of the season in convincing fashion on the road. The Titans offensive line starts in the middle with center EUGENE AMANO(Southeast Missouri State), flanked by guards JAKE SCOTT(Idaho) and LEROY HARRIS(North Carolina State). Providing protection on the outside are tackles DAVID STEWART (Mississippi State) and MICHAEL ROOS (Eastern Washington). Tackle MICHAEL OTTO(Purdue) and guard/center FERNANDO VELASCO(Georgia) also saw action this past Sunday. 
Offensive line coach BRUCE MATTHEWSis in his second season in the NFL, and first with the Titans. Hasselbeck completed 10 of 20 passes for 220 yards and three touchdowns to six different receivers. In addition to providing powerful protection for their quarterback, the offensive line was able to allow Johnson to rush 23 times for 101 yards, including a long run of 25 yards.
"After seeing how the Titans Offensive Line played on Sunday, you can tell that their new head coach Mike Munchak is a Hall of Fame guard. They did a great job protecting Matt Hasselbeck," said Pro Football Hall of Fame Coach JOHN MADDEN.
Other offensive lines from around the league delivering powerful protection during Week 4 play included the HOUSTON TEXANS (180 rushing yards, 0 sacks allowed, 1 tackle for loss allowed, 6-of-12 on third down), ATLANTA FALCONS (412 total yards, 291 passing yards, 121 rushing yards, 0 sacks allowed, 21 minutes time of possession differential, 9-of-16 third down conversions), and*theNEW ENGLAND PATRIOTS *(409 total yards, 226 passing yards, 183 rushing yards, 1 sack allowed, 4 quarterback hits allowed, 4-for-9 third down conversions).