NASHVILLE, Tenn. -** Titans defensive coordinator and former Texas defensive back Jerry Gray was inducted into the National Football Foundation College Football Hall of Fame during the 56th Annual NFF Awards Dinner at the Waldorf Astoria in New York City on Tuesday night.
This year's class included 12 All-Americans, seven unanimous First-Team All-Americans, four members of national championship teams, seven conference player of the year honorees, two NFF National Scholar-Athletes, one William V. Campbell Trophy winner and three Heisman Trophy winners.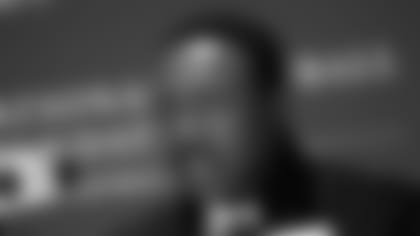 The 2013 class, presented by NFF Honors Court Chairman Eugene Corrigan and AFCA Executive Director and Hall of Fame Coach Grant Teaff, included Ted Brown (North Carolina State), Tedy Bruschi (Arizona), Ron Dayne (Wisconsin), Tommie Frazier (Nebraska), Jerry Gray (Texas), Steve Meilinger (Kentucky), Orlando Pace (Ohio State), Rod Shoate (Oklahoma), Percy Snow (Michigan State), Vinny Testaverde (Miami, Fla.), Don Trull (Baylor), Danny Wuerffel (Florida), and coaches Wayne Hardin (Navy, Temple) and Bill McCartney (Colorado).
The 12 players and two coaches bring the total number of players in the Hall of Fame to 934 and the number of coaches in the hall to 205. Gray is the Longhorns' 17th player and 19th overall inductee (including coaches D. X. Bible and Darrell Royal) into the College Football Hall of Fame.
A four-year letterman at defensive back from 1981-84, Gray is one of only seven Longhorns to earn two-time consensus All-America honors, as he did in 1983 and 1984. He earned unanimous honors as a senior and is still one of only 20 players in UT history to accomplish that feat. He was also a two-time Southwest Conference Defensive Player of the Year in 1983-84. Inducted into the Longhorn Hall of Honor in 1996, Gray is also a member of the Texas All-Time Team and All-Decade Team for the 1980's.
"When you grow up, you don't really think of it as an individual game, you just think of your team," said Gray. "You really don't play this game for yourself, you play it for your teammates and it's an honor to be up here and I'm humbled by it. I want to thank those guys [teammates at Texas] for providing me the opportunity to be up here."
Gray finished his career ranked second on the UT career interceptions list and still stands third with 16, just one behind record holders Noble Doss and Nathan Vasher. He is also tied with Vasher and three others for second on the single-season interceptions list after pulling in seven in 1984. He shared that record until safety Earl Thomas set a mark with eight in 2009. Gray also finished his career fourth on the career fumble recoveries list and still stands eighth with six recoveries. Gray recorded 297 career tackles, 16 interceptions and 20 pass breakups during his time in Austin.
Gray has been the Titans' defensive coordinator since 2011. He spent 2010 as defensive backs coach with the Seattle Seahawks where he helped Thomas make an immediate impact as a rookie in the NFL. During the regular season, Thomas started all 16 games, ranking ninth in the league and second among rookies in interceptions with five. He was also fifth on the team with 76 tackles.
Gray joined the Seahawks after serving in the same capacity for the Washington Redskins for four seasons from 2006-09. Gray spent five years in Buffalo as the Bills defensive coordinator from 2001-05. Prior to joining the Bills in 2001, Gray spent the previous four seasons as an assistant with the Titans, including the last two as defensive backs coach.
Gray originally started with the Titans as the defensive assistant/quality control coach in 1997 before being elevated to the defensive backs position. He broke into the coaching ranks in 1995 as the defensive backs coach at Southern Methodist.
A nine-year veteran of the NFL, Gray was a first-round pick (21st overall) in the 1985 NFL Draft by the Los Angeles Rams. During his career, he played with the Rams (1985-91), Houston Oilers (1992) and Tampa Bay Buccaneers (1993). He was a four-time Pro Bowler at cornerback (1986-89) with the Rams, and finished with 28 career interceptions. He posted a season-high eight interceptions in 1986, just his second year in the NFL. He was also named the NFL's Defensive Back of the Year in 1989 and earned MVP honors in the 1990 Pro Bowl.
The Lubbock, Texas, native established the Jerry Gray Foundation for underprivileged youth, which provides athletic and academic scholarships. He also founded and coordinated the Jerry Gray/Young Life Skills and Leadership Football Camp, and he is active in the Boys and Girls Club of Orchard Park and the United Way.
Gray earned a bachelor's of science degree in speech communications from UT. He lettered in football, basketball and track at Estacado High in Lubbock, was inducted into the Texas High School Hall of Fame in 1995 and was named to the All-Time Texas High School team.
Gray and his wife, Sherry, have two sons, Jeremy and Jayden. Jeremy is a senior defensive back at SMU.
Including the 2013 FBS class, only 930 players and 202 coaches have been inducted into the College Football Hall of Fame from the nearly 4.92 million who have played or coached the game during the past 144 years. In other words, only two one-hundredths of one percent (.0002) of the individuals who have played the game have been deemed worthy of this distinction.
Founded in 1947, The National Football Foundation & College Hall of Fame inducted its first class of inductees in 1951. The first class included 32 players and 19 coaches, including Illinois' Red Grange, Notre Dame's Knute Rockne, Amos Alonzo Stagg and Carlisle's Jim Thorpe.
294 schools are represented with at least one College Football Hall of Famer.
Gray and the rest of the 2013 class will be honored guests at the National Hall of Fame Salute at the Allstate Sugar Bowl in New Orleans on January 2, 2014 and officially enshrined in the summer of 2014.
About The National Football Foundation & College Hall of Fame
Founded in 1947 with early leadership from General Douglas MacArthur, legendary Army coach Earl "Red" Blaik and immortal journalist Grantland Rice, The National Football Foundation & College Hall of Fame is a non-profit educational organization that runs programs designed to use the power of amateur football in developing scholarship, citizenship and athletic achievement in young people. With 120 chapters and 12,000 members nationwide, NFF programs include the College Football Hall of Fame, the NFF Scholar-Athlete Award presented by Fidelity Investments, Play It Smart, the NFF Hampshire Honor Society, the NFF National Scholar-Athlete Alumni Association, and scholarships of more than $1.3 million for college and high school scholar-athletes. The NFF presents the MacArthur Bowl, the William V. Campbell Trophy endowed by HealthSouth, and releases the Bowl Championship Series (BCS) Standings. NFF corporate partners include the Allstate Sugar Bowl, the BCS, Fidelity Investments, Herff Jones, Liberty Mutual Insurance, NCAA Football, and Under Armour. For more information, please visit www.footballfoundation.org.