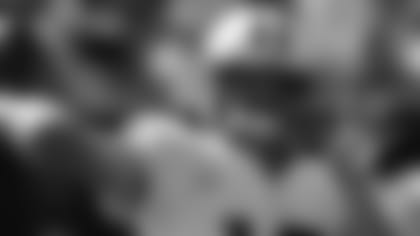 NASHVILLE, Tenn. – Titans quarterback Jake Locker practiced Wednesday during the portion open to the media as he continues to recover from a thumb injury suffered against the Browns in Week 5.
Here's Titans head coach Ken Whisenhunt's assessment of Locker following practice.
"He did pretty much everything," Whisenhunt said. "He'll be listed as limited because I don't want it to flare up tomorrow and be an issue, but he did a lot today."
Locker's weekly media availability was pushed to Thursday to give the QB better indication of how his thumb responds to two days of throwing.
Locker threw on the team's day off Tuesday before throwing again today.
"He threw yesterday and the big thing is to get two days in a row where he can do that," said Whisenhunt. "That's why he didn't have anything to say because we'll see how it goes tomorrow."
Whisenhunt said Locker's condition has improved, knowing Thursday is a big day of the week as far as his game status is concerned.
"It seemed to be (responding well)," he said. "I haven't talked to him after practice yet, but the way he handled himself today it seemed to be better than it was last week."
Locker has missed the last two games due to the injury with Charlie Whitehurst getting those starts. Thursday should offer more clarity as to who will be under center on Sunday as the Titans return home to face the Houston Texans.