NASHVILLE, Tenn. (AP) — The man selected by Tennessee's owners to oversee the Titans and help search for a new president and chief executive officer says they have made it clear the NFL franchise is not for sale.
Steve Underwood said rumors of a team being sold are heard whenever a longtime owner dies. Bud Adams died in October 2013, but Tommy Smith announcing his retirement Friday raised new questions about whether Adams' family was preparing to sell the team he founded.
"I've talked to the owners, and I know what they say about selling, and the answer is the team is not for sale," Underwood told The Associated Press on Tuesday by telephone from Phoenix. "And I don't need to worry about speculation because I have spoken to the people who own the team."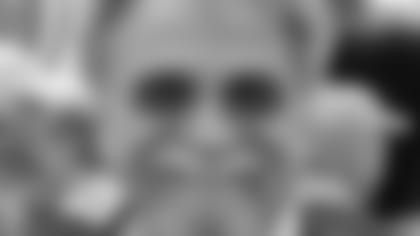 Underwood retired from the franchise in 2011 after approximately 35 years with the Oilers-Titans franchise, including the final six as senior executive vice president overseeing the team's day-to-day operations. He also served as general counsel. He said he was asked Friday to take over on an interim basis.
"I have spent my whole professional career working for our franchise," Underwood said. "Nothing is more important to me than its success, and I want to make sure that our ownership group gets whatever info and guidance that I can give them and that others can give them."
The Titans' ownership group includes Adams' daughters Susie Adams Smith and Amy Adams Strunk and the family of his late son. Underwood said his job is keeping everyone updated on the team's daily operations and helping find his permanent replacement. The owners also want to reassure Titans' fans, season-ticket holders and sponsors that they are not going anywhere.
"Nothing has changed about our commitment to Nashville," Underwood said. "Nothing has changed about wanting to put a great product on the field."
Underwood had approximately 48 hours to prepare for the NFL meetings when tapped Friday to take over the team. But he is familiar with general manager Ruston Webster from when Webster was a finalist for a general manager job that went to Mike Reinfeldt in 2007. Underwood said he also has talked with Titans coach Ken Whisenhunt in Phoenix as well.
"We're very comfortable with them as our head coach and general manager," Underwood said. "Ruston has been aggressive in free agency, we're looking forward to a great draft and we want everyone who is involved with the Titans to get a better comfort level with where our franchise is and where it's going."
The Titans are coming off a 2-14 season and hold the No. 2 pick overall in the upcoming draft. But a team that has sold out every game since moving into its current stadium in 1999 has struggled to lure fans to use those tickets the past two seasons with fan complaints over gate access and food options inside.
For now, there is no timeline yet to hire the new president or if the team will use a search firm. The new president could have ties to the NFL, business or the college ranks. Underwood noted that former players could be another pool of talent to consider with John Elway's success running the Broncos and Ozzie Newsome with Baltimore.
Underwood also took a moment to thank Smith for his 40 years with the franchise.
Smith had been president/ceo since Adams' death before retiring from that post Friday to concentrate on the family's oil and gas company Adams Resources and Energy, Inc., in Houston. Smith was heavily involved in the team's move from Houston to Nashville in 1997 along with construction of LP Field along with the team's current practice headquarters.
"I don't think we should miss the fact that not only for the last 18 months but also for the last 40 years Tommy has made enduring contributions to our club," Underwood said.
RECOMMENDED: