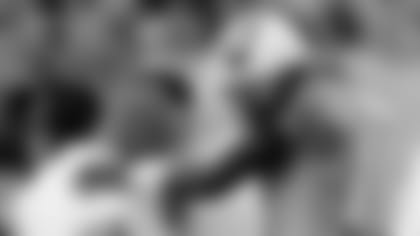 An injured thumb that could require surgery might provide the medical reason for Vince Young not to play again in 2010.
NASHVILLE, Tenn. --** Titans quarterback Vince Young could be done as the team's quarterback -- at least for this season.

An injured thumb that could require surgery might provide the medical reason for him not to play again in 2010. His behavior during -- and especially after the team's 19-16 overtime loss to Washington Sunday -- could be the real reason.

Fisher said there would be a quarterback change -- regardless of the reason -- with rookie Rusty Smith taking over because of a leg injury to veteran Kerry Collins. Smith replaced Young for most of the second half and overtime against the Redskins after Young tore a tendon in his right (throwing) thumb.

After not playing for most of the second half and overtime -- Young threw the ball on the sideline and took snaps from under center and in the shotgun formation and behaved as if he wanted to return to action -- Young removed his shoulder pads and jersey while leaving the field after the final whistle.

Coach Jeff Fisher said Young, a captain, threw this jersey and shoulder pads into the stands on his way to the locker room. Witnesses verified that police or stadium personnel had to retrieve Young's gear from the stands.

Roughly five minutes after the game ended, Young walked briskly from the locker room to the players' parking lot, dressed in street clothes. I followed Young, who I've interviewed several times and have a good relationship with. From less than two or three feet away, I called to him four times. He kept walking until he turned into a loading dock that led to the parking lot.

Teammate Michael Griffin, who played with Young at the University of Texas, came out of the locker room in gym shorts and chased Young down in the loading dock. They spoke briefly before the veteran safety came back toward the locker room, looking disgusted, as if saying, "Well, I tried."

Fisher, meanwhile, was highly agitated at his news conference, with the loss and Young's behavior -- there were words between Fisher and Young in the locker room -- the contributing factors. Fisher did not mince his comment and was stunningly candid.

"Clearly, that's no way to respond so we have some things we have to work out with him," Fisher said. "He may need surgery and if that's the case he's done for the year."

When asked if he lost his job regardless of the injury, Fisher said, "Right now he has. There are some things that have to change. I can't ... what went on is just between us."

When asked if Young said anything to him after the game, Fisher said, "Yes he did and that's between me and him and the team."

Fisher added: "I'm very disappointed. His teammates are disappointed. There's going to be frustration with losses. There are times when you really have to just dig deep and fight and turn to one another. I don't think you run and so I am disappointed."

Titans players did not elaborate on the situation -- wide receiver Nate Washington said players were told not to speak about Young -- but they seemed as annoyed with Fisher, maybe more so with a loss that dropped them to 5-5. Griffin would not go into much detail but he told me that "egos" were an issue. He did not specify if he meant Young, Fisher or anyone in particular but said people have to let go of their "egos."

"Hopefully people will set aside their egos and set aside their personal feelings and look at the bigger picture that this is a team and we need to stick together as a team," Griffin said.

He added: "I've been playing with (Young) for a total of seven years. Vince is a great player, a great teammate. What's going on right now is (between) him and Coach Fisher. I'm behind him 110 percent. If a change has been made, that's up in the air. All I can do, I'm behind him 110 percent. I support him. He's a friend. He's like family. When I'm down, he picks me up. I wish him the best and hopefully we can get things straightened out."

Said running back Chris Johnson: "Vince is a great player. He's just a guy that wants to be out there on the field and making plays, so no distraction at all."

To Johnson's point of Young wanting to be out on the field, Fisher said after Young returned from having his injured thumb examined in the third quarter, he didn't think Young could throw the ball properly after watching Young throw on the sideline with his thumb taped. Young also tried to throw with a batting-type glove, which he eventually disposed of.

"He never came to me and said he was okay or wanted to go back in," Fisher said.

Fisher didn't seem too thrilled by Young's overall play against the Redskins. Recently acquired wide receiver Randy Moss did not have a catch, but Fisher, without mentioning Young, said Moss was open several times in the first half and that any lack of production was not Moss' fault.

At stake is not only Young's short-term future with the Titans. His his long-term future with the team could be in jeopardy as well. A captain, Young has had an up-and-down career on and off the field. With one more year on his contract, his behavior Sunday and his inconsistent play -- and injuries -- could make him expendable. Young returned as the starter Sunday after missing last week's loss to Miami with an ankle injury.

Young was hot and cold in the first half and, after overthrewing Moss in the end zone in the second quarter, he was booed by the home crowd. Later, just before the end of the first half, he missed Washington on a pass that was the third play of a three-and-out sequence.

Boos rained down again but they seemed more directed at the play selection. Even so, Young waved his arms as if to egg the crowd on -- a gesture that went contrary to stories of his supposed growth over the past year or so.

Young's maturity has been in question since the season-opener in 2008, when he was booed after throwing an interception against Jacksonville. Young didn't respond well and the team called police to track him down after people close to him said he mentioned suicide and that he was in a state that concerned them. Young downplayed the issue but his ability to lead the team on a full-time basis has remained unsettled.

Kerry Collins led Tennessee to the playoffs after replacing Young in 2008 and was named the starter in 2009. The Titans opened 0-6 and owner Bud Adams called for Young to start over Collins. Young rallied the Titans to an 8-2 finish and was named the starter entering this season. He's shown incredible flashes throughout his career and Tennessee got out to a solid start this season.

But injuries and, now this, have clouded where he and the Titans are headed.