NASHVILLE, Tenn. – Titans cornerback Logan Ryan wants to pack more of a punch in 2018.
By jumping into a new way of training – he added boxing to his offseason routine – he believes he'll be in a better position to do just that. Along the way, Ryan has developed a friendship with one of the greatest Titans, who has been impressed with his work ethic.
"It has been great to get to know who he is and what he wants to do," Eddie George said of Ryan. "He comes from New England, so he knows how to win. But Logan, you can tell he is hungry for more. And there is so much more meat on the bone as far as his career goes and what he has to offer for the Titans.
"His willingness to open up to new ways to train, I think it's great. And I think it's going to help him."
Ryan, set to begin his sixth NFL season and his second with the Titans, stepped up to be a ringleader among defensive backs this offseason. Along with safety Kevin Byard, he recruited players to train together at area gyms and football fields. Before the team's offseason program started, the defensive backs were busting it on their own.
At the same time, Ryan was turning the garage at his home into a boxing ring, complete with punching bags.
He reached out to the team's strength and conditioning staff to find the best boxing trainer in town. And he was pointed to Eddie George, the team's star running back from 1996-2003 who ran for 10,009 yards with the Titans.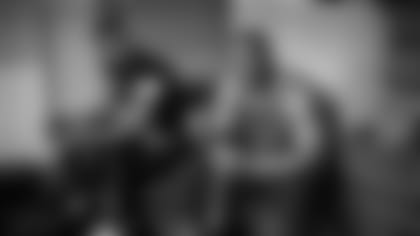 George had been boxing for years with trainer Galen Turner of Bloody Noze Boxing Academy. The two NFL athletes began working out together, under the direction of Turner.
"I told him: Train me like a boxer," Ryan said of Turner. "Train me like someone who walked into your gym. I wanted to learn the art of boxing."
Along the way, Ryan and George developed a friendship.
"We are really like-minded when it comes to appreciating everything that goes behind what you see on Sunday," Ryan said of George. "And I'm trying to elevate my game. (Galen) has been awesome. He has been training Eddie for years. And Eddie, he stays in great shape – he is a huge human being. And he is driven."
Ryan, who played four seasons with the Patriots before joining the Titans last March, said boxing should not only help him with conditioning, but also strengthen his shoulders, and improve his hand-eye coordination. The jump-roping has helped his ankles, and footwork.
"It's a quick sport, and corner is a quick position," Ryan said. "The crossover for boxing has been tremendous to me. It has been rewarding, and you get an appreciation for other sports, and training."
George said he's been able to see a difference in Ryan.
And he thinks it will pay off on the field this fall.
"(Boxing) translates to you being on the football field, especially for a guy like Logan," George said. "When you are playing the press coverage and jamming up a receiver, knowing where the hand placement goes, which shoulder to go after to get the receiver off-balance and so forth, all that helps out. And from a mental standpoint and hand-eye coordination, it puts you in a different frame of mind, if you will. I like to call it spiritual conditioning.
"This is another outlet for him. … We talked quite a bit about what he expects from himself this season and what he wants to do. And I'll tell you what: He's picked up the nuances of the punches and knowing when to slip and when to dip, and when to lay a combination. It's now gotten into his muscle memory, and it is fascinating how he is able to mirror the hands with the feet, and it is going to translate well when he goes on the field."