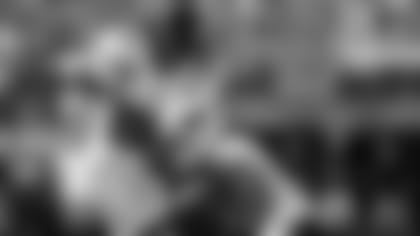 Titans safety Chris Hope dislocated his shoulder against the Jaguars last Sunday.
NASHVILLE, Tenn. -- Titans safety Chris Hope missed a second straight practice Thursday, and coach Mike Munchak said whether the veteran plays Sunday against Baltimore will depend on how quickly his shoulder strengthens after popping out in Tennessee's opener.
Hope finished the 16-14 loss at Jacksonville with the shoulder back in place, and he had an MRI exam Monday. The Titans (0-1) had not disclosed the type of injury until Munchak said after practice Thursday that Hope took a shot on the shoulder and popped it "in and out."
Munchak said the key for Hope to play is how quickly he gets strength back into the shoulder so that doesn't happen again. Veteran Jordan Babineaux has practiced in Hope's spot with the starters, but Munchak says they will see how Hope is Friday.
Veteran Jordan Babineaux has practiced in Hope's spot with the starters. If Hope isn't able to play, then Babineaux would get the start Sunday. The Titans signed both Babineaux and Anthony Smith during training camp, and both veterans made the roster.
"We're confident in them," Munchak said. "We talked about this back at training camp, the competitive level there. We needed that depth. We definitely need it right now and glad he's here and Smith's here. That gives us guys we feel we can win with in this league."
Hope has been a regular starter since his third year in the NFL with Pittsburgh and hadn't missed a start until 2007 when he missed the final five games of 2007. He wound up on injured reserve with a neck injury that needed surgery, but Munchak said this injury is not related. Hope has started 108 of his 138 career games. A Pro Bowler in 2008 when the Titans went 13-3, Hope is making $6.5 million this season in the final year of his contract.
Babineaux has the advantage of having played with Titans defensive coordinator Jerry Gray last season in Seattle when Gray was coaching the defensive backs.
"He understands what I'm trying to get done, has got good athletic ability that he can go out there and cover the tight ends. He can step up and stop the run and do some things, which will be good for us and give a chance to step right in," Gray said. "You won't miss a beat on defense."
The Titans had a late arrival at practice Thursday when receiver Nate Washington got on the field with about 30 minutes left.
His daughter, Niyla, was born early Thursday afternoon after keeping him at the hospital throughout the night. He hadn't slept since Wednesday morning but said it was good to see his daughter born. Now he's turning his attention to the Ravens (1-0) and hopefully a couple touchdowns to celebrate.
"Hopefully, I can really show out for her. This could be both our breakout game," he said.
NOTES: Gray said safety Michael Griffin had two choices on a key third-down catch late by the Jaguars in the opening loss to either go for the interception or knock the ball loose from the receiver. Gray said he doesn't want his players worrying about being fined. "Don't you be the judge and the jury. Let someone else do that," Gray said. ... RB Javon Ringer practiced for a second straight day after missing the opener with back spasms. WR Damian Williams (hamstring) did not practice. DE William Hayes (shoulder) did not practice. But DE Jason Jones (left knee) and DE Derrick Morgan (left knee) both practiced and are expected to play after missing the opener.