NASHVILLE, Tenn. – Rookie tight end Jonnu Smith scored his first career touchdown in Jacksonville, and then flipped the football out of his hands and to the ground as he began to celebrate.
In the end zone, Smith was quickly congratulated by many of his Titans teammates.
"Then Marcus (Mariota) came to me and was like, "You have the ball? Where's the football?," Smith said with a smile. "It was my first touchdown, so I was going to keep it. So I started looking for it."
On the sideline, Smith got the news: "Quinton Spain threw it in the stands."
At least it was for a good cause.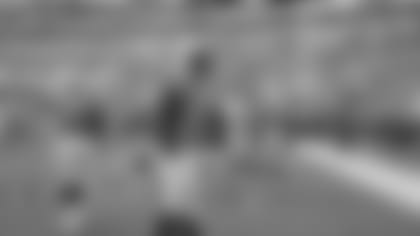 Maybe you've noticed: After touchdowns, Titans players have been giving the footballs to fans in the crowd, children if possible, both on the road and at Nissan Stadium. It's something the team started doing last season, at the suggestion of Titans coach Mike Mularkey. And the tradition continues.
Mularkey is once again keeping track, and at the end of the year he'll make a donation to the ALS Association. The Titans Foundation is matching Mularkey's $500 donation for each football that ends up in the hands of a fan. Already, a $4,000 has been raised for ALS this season, a year after Mularkey and the Titans raised roughly $60,000 in 2016 for their post-touchdown good deeds.
"The cause is important to me, and my relationship with Tim Shaw and ALS," Mularkey said. "I like that our players think it's important. I like that our fans get to be a part of a celebration of a touchdown. I think we make memories for families and kids. It is all good for everybody. It's a win-win all around."
A former Titans linebacker, Shaw was diagnosed with ALS in 2014. Last year during training camp, the Titans signed Shaw to a contract, making him a "Titan for Life." Shaw was named one of the team's captains this season.
Mularkey said the post-TD routine has been part of his history as a head coach, dating back to his days with the Buffalo Bills in 2004-05. Back then, Mularkey made a donation to the Ronald McDonald House for players who gave the footballs back to officials after a score to avoid an excessive celebration penalty.
In Nashville, Mularkey said he wanted to do something in Nashville to reward Titans fans, while also bringing attention ALS. According to the ALS Association, amyotrophic lateral sclerosis is a progressive neurodegenerative disease that affects nerve cells in the brain and the spinal cord. Also known as Lou Gehrig's disease, ALS eventually leads to death. Patients in the latter stages of the disease may become totally paralyzed.
Smith said he's already forgiven Spain for the turnover, because it's for a good cause.
"At first I was like, "Dang," Smith said. "But a kid ended up getting it, and they'll have a good memory."
Spain, who has become the team's unofficial TD ball delivery man, said he "feels like Santa Claus" when handing out the footballs.
"When I eyeball a kid the first thing I see is them smiling," Spain said. "It is a gift to give them the ball, it makes their day. You don't know what they are going through, and they could talk about that for the rest of their life."
And while he initially caught some grief from Smith for giving his trophy ball away, with a smile he said the rookie learned a valuable lesson.
"(Jonnu) came to me on the sideline and said "Where's my ball at? I said you had a chance for the ball and you walked right past it, so I threw it in the crowd," Spain said. "I told him to just get another ball and no one will ever know. He said, "I'll know." Well, he shouldn't have walked past it and acted like he didn't want it then.
"I think giving the balls away is a great idea. I respect everything about it. I know how Tim Shaw was physically before he was diagnosed, and I'd never seen that before, and it hit me. The way he is battling, I want to help do my part. Giving the footballs out to kids and seeing how much they love it, it's pretty cool."
Former Titans LB Tim Shaw unveils his new book, then is recognized as the "Honorary 12th Titan" at Nissan Stadium. (Photos: Donn Jones, AP)