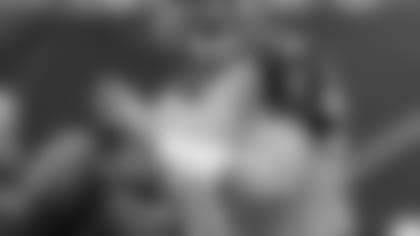 Matt Hasselbeck is relieved to be staying in Nashville after Peyton Manning announced his decision to join the Denver Broncos.
NASHVILLE, Tenn. --Matt Hasselbeck understands why the Titans tried to sign Peyton Manning and plans to move on, taking care of what he controls.
That includes building off his first season in Tennessee.
Hasselbeck made his first public comments since Manning chose Denver on a conference call Thursday from the NFL Players Association's annual meeting. He said he has a ton of respect for Manning and expected there would be interest in the four-time NFL MVP when Tennessee was reported as a possible suitor.
"I just sort of expected that because...who he was in the state. I get it. It wasn't a shock to me,'' Hasselbeck said.
Hasselbeck said he has heard that Manning might reach out to some of the quarterbacks at the teams he met with during his whirlwind free agency tour. That's not necessary for Hasselbeck.
"If the owner wants to make a change and pursue somebody in free agency, that could happen on any team at any time anywhere,'' Hasselbeck said. "I guess for me at the end of the day ... again I get it. I get it with the Peyton thing.
"I'm excited that I get a chance to finish what we started here, and I'm very confident in my abilities to get it done as a quarterback and so I think bottom line, we're just happy to get to stay in Nashville.''
Hasselbeck said he went through a similar change himself a year ago when Seattle moved on without him. As a competitor, Hasselbeck said the reaction is to say he's got the situation handled. He said he and Jake Locker, Tennessee's quarterback of the future after being drafted eighth overall in 2011, talked while the Titans pursued Manning. But Hasselbeck refused to share any of those discussions.
The veteran quarterback was busy ferrying students to the Tennessee high school boys basketball tournament while the Titans met with Manning at the team's headquarters and later flew to Knoxville where Manning worked out for coaches and officials.
After the union meetings in Florida, Hasselbeck said it will be time to get back to work in the offseason program that starts in mid-April.
"If I had to make the choice this year like I did last year, I still would choose Tennessee,'' Hasselbeck said. "I like what we have going here. I really like the offensive line, the skill guys are very talented. I like the coaching staff. I like the division that we're in.
"I like everything about it.''
A three-time Pro Bowler, Hasselbeck is coming off one of his best seasons in his career and one of Tennessee's best by a quarterback despite not having an offseason to learn a new offense. He threw for 3,571 yards, which was the fourth-highest total in team history. His 319 completions ranked third highest, while his 18 touchdown passes were the highest since 2004. Hasselbeck also had 28 completions go for 25 yards or longer, the most big plays by a Titans quarterback since Steve McNair had 33 in 2001.
The veteran did all that after losing his top receiver Kenny Britt to a torn ACL in September and led the Titans to a 9-7 record, losing out on a playoff berth through a tiebreaker.
Nonetheless, coach Mike Munchak already has said Hasselbeck and Locker will compete to be the starter this season.
It's just more NFL business, which can be tough at times.
The Titans also added five-time All Pro guard Steve Hutchinson a week ago, making Jake Scott expendable. Hasselbeck is with Scott at the union meetings - Scott was the Titans' right guard last season. Now Scott is an unrestricted free agent, and Hasselbeck said he's friends with both Scott and Hutchinson.
Another aspect of the NFL, especially for a quarterback, is inevitable criticism.
Hasselbeck said he's had to deal dealt with competition throughout his career and mentioned Seattle traded for him only to sign Trent Dilfer during training camp. Hasselbeck said he'd love to say fans were split but wound up being 90-10 in favor of Dilfer as the starter.
"I've played with guys who are first-round picks or really talented guys that handled that situation well ... basically how to handle it well you essentially don't flinch. Don't blink. Just do your job better,'' Hasselbeck said. "And I've seen guys handle it differently. They get caught up. They whine. They complain. They whisper to people in the locker room about that guy. The blame the coaches.
"They blame somebody else instead of I guess just getting determined to prove people wrong.''