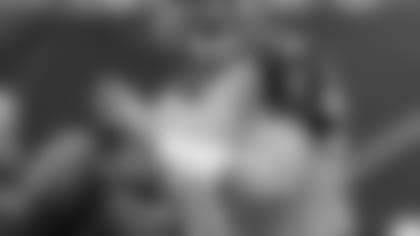 Matt Hasselbeck will be ready to go when the Titans host Tampa Bay Sunday at LP Field.
NASHVILLE, Tenn. — Matt Hasselbeck didn't envision watching last week's game from the Georgia Dome sideline. But as he encouraged teammates with his arm wrapped in ice, he liked what he saw as Tennessee turned up the heat against Atlanta in the fourth quarter.
 "Any time anybody makes a big play, whether it's offense, defense, special teams, you get excited, you cheer," Hasselbeck said. "You're almost like a fan over there (on the sideline).
"For me," he continued, "even more so as an offensive player, knowing the guys on offense, seeing Jake (Locker) do well, seeing Nate (Washington) score twice, (Lavelle Hawkins) come down with that heroic catch, (Jared) Cook come down with the ball on fourth-and-17. It was a ton of fun. It's unfortunate that we didn't finish it and win it, but there were some good things to learn from in that game and film."
Locker, a rookie, relieved Hasselbeck in the third quarter after the veteran's arm was struck during his throwing motion. Locker and the Titans entered rally mode and put together two scoring drives before falling 23-17.
Hasselbeck, who has completed 206 of 337 passes for 2,357 yards with 14 touchdowns against eight interceptions this season, underwent an MRI and X-ray Monday and was limited to short throws in practice Wednesday.
"At certain points in the year, you're going to get banged up and you've got to do the best you can with it. When you're a quarterback and it's your throwing arm, it just gets a little more delicate or complicated," Hasselbeck said. "Any time you get hit while you're throwing, it's just not an ideal situation."
He practiced fully Thursday and is ready to take aim at Tampa Bay, which, he said, has played a lot of man-to-man defense.
"They matched up against Green Bay, who's got one of the best wide receiver groups in the league," Hasselbeck said. "I would expect a lot of man coverage, a lot of bump and run, a lot of in-your-face, grabbing, physical coverage from the get-go."
The Buccaneers rank 31st in total yards allowed, 29th in passing yards allowed, 26th in rushing yards allowed and have given up 268 points this season, which also ranks 29th. Hasselbeck, offensive coordinator Chris Palmer and receiver Damian Williams all said Tampa's secondary is the strength of its defense, and the rankings don't match up with that unit's talent.
"(Cornerback Ronde) Barber is outstanding," Palmer said. "The thing we're going to have to adjust to is their quickness and speed. A year ago they were 10-6. Every year is a new year with a better schedule. I think they're a good defensive football team, and we're going to have to be very solid on Sunday."
Barber, a five-time Pro Bowler who's in his 15th season, has a franchise-best 42 career interceptions and has recorded 27 sacks, making him one of four players in NFL history to have more than 25 sacks and more than 30 interceptions. Barber has played in 218 consecutive games and made 193 starts in a row.
Washington leads Tennessee's receivers with 48 catches for 616 yards and has four touchdowns, and Williams has 24 catches for 316 yards and four TDs. Williams said Hasselbeck was sharp during Thursday's practice and re-established rhythm with receivers, which will be helpful against Tampa Bay.
"Ronde's a veteran. He's seen everything," Williams said. "There's nothing that you can surprise him with, so he's one of those guys that you've really got to pay attention to your technique. With (Aqib) Talib, you've got a good athlete. He's been around for a couple of years now. I think they take pride in what they do, so we're going to have to come to work."