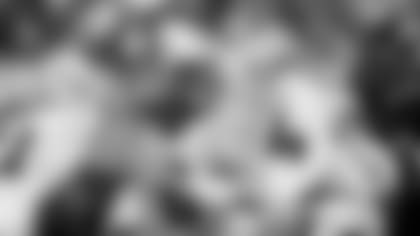 Matt Hasselbeck and his receivers are getting more in sync with each practice and game.
NASHVILLE, Tenn. — Hours of planning during the week can sometimes give way to what works best on Sunday.
Titans coach Mike Munchak said Monday that Tennessee planned to have a balanced running and passing game against the Baltimore Ravens, but decided to continue passing the ball as success mounted with every throw by Matt Hasselbeck.
"We knew they were very good against the run, but we didn't want to abandon the run from the beginning," Munchak said. "Guys were getting open, and Matt was pretty sharp in his delivery. We thought that's the direction we'd go until we saw otherwise."
Hasselbeck, the 13-year NFL veteran, completed 30 of 42 passes to nine different players for 358 yards and a quarterback rating of 95.1.
The result was the franchise's most prolific offensive performance (432 yards) against a team that's gained notoriety as a nemesis and a 26-13 win — Munchak's first as a head coach. The 358 yards passing were the most by a Titans quarterback since 387 by Vince Young in the 2009 season.
Munchak said the completions were signs that Hasselbeck, who joined the Titans after the lockout ended, is gaining rhythm with his receivers, who have confidence that Hasselbeck will find them.
"Guys are getting comfortable and realizing, 'If I get open, I'm getting the ball,' " Munchak said. "There's going to be times in the game, where depending on the situation, teams are going to have to be smart."
Hasselbeck's favorite target in each of the first two weeks has been Kenny Britt, who had a career-high nine catches for 135 yards and a touchdown. Britt, who has three touchdowns on the season, said he and Hasselbeck are continuing to improve their chemistry.
"I'd say we're at about 75 percent, probably 80 after (Sunday's) game," Britt said. "Hopefully we'll be at 95 after (Monday's) practice.
Hasselbeck said Sunday that Britt may be the most talented receiver he's had as an option but they are still trying to figure each other out.
"We're working through everything — not just him, but with everybody…we're working through new people, new things," Hasselbeck said. "I think our coaches are doing a nice job of trying to communicate to us, and it's a good group of guys to talk to, to work with and we made some plays and we missed some plays."
Hasselbeck also completed seven passes for 99 yards to Nate Washington and led the offense on scoring drives of 80 (touchdown), 75 (touchdown) and 65 yards (field goal).
"He did a heck of a job delivering balls when there were tight windows all over the field," Munchak said. "Once he knows the guys are going to catch the ball, he has more confidence sticking them in there."
The passing game's success helped Tennessee break an 11-game losing streak when an opponent has held Chris Johnson to less than 60 yards rushing. The streak dates back to Johnson's rookie season of 2008. The Titans went 2-1 that year, 0-2 in 2009, 0-7 in 2010 and lost last week's opener at Jacksonville when Johnson was held to 24 yards on nine carries by the Jaguars. Baltimore held Johnson to 53 yards on 24 carries.
Munchak, the Hall of Fame offensive lineman and former offensive line coach, said the unit's experience showed Sunday.
"They can make a lot of adjustments in the huddle, on the play," Munchak said. "We didn't expect to pass the ball as much as we did. It got into that type of game, and what helped us do it was the protection was good. If the protection is good and guys are getting open, we'd be foolish not to do what we tried to do. If you're not running the ball well, how long are we going to bang our head against the wall?"
Munchak said the dual threat will be nice to have as opponents try to prepare for and stop the Titans.
"It's exciting to know you have a lot of ways to win games," Munchak said. "You're not so one-dimensional when you're going into a game. When guys are making plays, I think everyone gets excited."