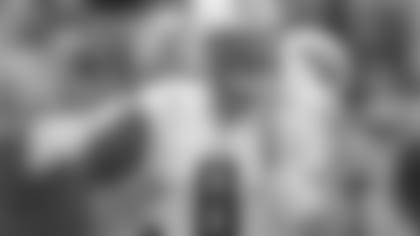 Titans QB Matt Hasselbeck has thrown for at least 300 yards in each of the last two games.
NASHVILLE, Tenn. - Matt Hasselbeck loves Monday mornings in Tennessee.
Sure, the 13-year veteran quarterback just turned 36 and had to learn a new offense after spending the past 10 years in Seattle. But that hasn't been a problem.
"I don't feel like I just woke up out of a car accident every Monday," he said. "That's been good. I'm just excited to be here, and it's been refreshing just learning something new. It's been interesting I guess."
Hasselbeck is off to the best start of his career helping the Titans to a 2-1 start and a share of the AFC South division lead. The three-time Pro Bowler has 932 yards passing, his highest total ever through the first three games. Only Warren Moon has thrown for more yards for this franchise with 989 yards in 1990 and 970 in 1992.
He has thrown for at least 300 yards in each of the past two games, something a quarterback hadn't done in consecutive games for Tennessee since Billy Volek in December 2004.
Hasselbeck gives credit for his success to the offensive linemen making him feel very comfortable in the pocket. He's been sacked only four times, and he said only one sack was the offensive line's fault.
"If you don't start with that, you've got nothing," Hasselbeck said.
"You can draw up all the fancy plays that you want and mismatches and personnel groups. But if you can't block for it, then that stuff's no good. It's trash. It's good for nothing. We've got a great group of guys up front playing the offensive line. They're well-coached, and they just work together as a unit. I mean talk about teamwork, those five guys have to work together more than any other group probably in any other sport."
The knock on Hasselbeck before Tennessee signed him was that he was washed up and injury prone. He hadn't started all 16 games since 2007, the last season he was named to a Pro Bowl. He played just seven in 2008 and 14 in each of 2009 and 2010. Even though he helped Seattle beat New Orleans in an NFC wild-card game, the Seahawks didn't want him back.
The Titans did with new coach Mike Munchak calling to help persuade Hasselbeck to sign with them. The quarterback agreed to terms on a three-year deal less than 48 hours after the lockout ended in July and has been all the Titans wanted and more. Munchak thinks Hasselbeck will only get better with more time in Chris Palmer's offense.
"It's a work in progress," Munchak said. "He is having a lot of success at what he is doing, making plays and putting the ball in spots where only our guys can catch it, and they are catching it."
Hasselbeck said Tennessee's commitment to pass protection shows through. Since 1997 when Munchak took over as the team's offensive line coach, the Titans rank third in the NFL in lowest sack percentage per passing play with 5.4 percent and 400 sacks allowed.
"Here they give it the first priority, and it's not the case in most places," Hasselbeck said. "That's one of the reasons it was attractive to me here. Munch's background, he gets it. He understands it, and I've always had a good relationship with my offensive linemen. I really like the group, and I'm happy that I get to be with these guys."
Hasselbeck's early success is why no one is calling for rookie Jake Locker, the eighth pick overall, to play yet.
The veteran ranks seventh among the NFL's active quarterbacks with 30,511 yards passing, and he currently is seventh in the NFL with a 102.2 passer rating. He's completing 69.6 percent of his passes, third-best in the NFL behind only Aaron Rodgers of Green Bay and New England's Tom Brady.
Cleveland coach Pat Shurmur has followed Hasselbeck's career and sees the Titans using some pieces of the West Coast offense the quarterback used most of his career along with what Palmer has brought to Tennessee.
"It looks like Matt is handling it well and executing extremely well, so I'm impressed with what Matt is doing, I really am," Shurmur said. "It looks like he is healthy, he's able to move around, he is throwing the ball on time, he is getting good protection and he hasn't been sacked very often."
Nate Washington already has 21 catches from the new quarterback, half of what he had all of 2010. The receiver credits Hasselbeck with doing a great job communicating with the receivers.
"He's definitely a vocal leader that's not pushing you to yell at you, but making sure we're all on the same page. I think it's going to pay off," Washington said
Hasselbeck never has put together three straight games of 300 yards passing. Mike Holmgren, the man who brought Hasselbeck from Green Bay to Seattle, now is president in Cleveland where the Browns (2-1) will try to stop him Sunday. Hasselbeck said Holmgren and Shurmur probably know him better than he knows himself in a way.
"But I wouldn't say the same thing about the guys playing on their defense," Hasselbeck said.