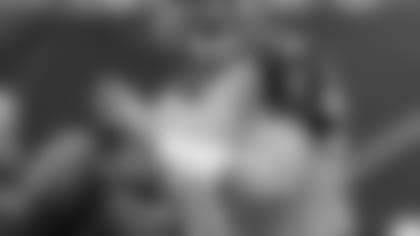 Titans QB Matt Hasselbeck practiced fully Thursday after being limited Wednesday with a bruised thumb.
NASHVILLE, Tenn. - Matt Hasselbeck says his right thumb feels just fine, and he's played with much worse in the past. The Titans veteran quarterback didn't want to miss any of practice.
Coach Mike Munchak said Thursday that's why team officials make decisions about injuries, not the players.
"I think we did the right thing by telling him he couldn't do it even though he's a guy that's never going to come over to you and say, `Hey, can I rest my thumb?,'' Munchak said. "I would never expect him to do that. Even if it's hanging off his hand, I know he'd want to practice so it was up us to do that, and I think we did the right thing. He's better today, threw well today, and I'm sure the next couple days will be good. He's in great shape.''
Hasselbeck practiced fully Thursday after being limited Wednesday. He said his thumb wasn't that bad Wednesday, but that they didn't want a bunch of snaps banging against his hand. The benefit was extra work for rookie Jake Locker, the eighth pick overall, and Rusty Smith.
"And when you're as old as I am, when you're 36, they start giving you days off if you sneeze too much,'' Hasselbeck joked.
He said he bruised the thumb in last week's 41-7 loss to Houston when he hit his throwing hand on the arm or elbow of a defensive lineman. Hasselbeck said his thumb will not be an issue Sunday when the Titans (3-3) host Indianapolis (0-7).
Hasselbeck is coming off his worst game since joining the Titans after the lockout ended with a three-year contract. He was 14 of 30 for 104 yards against Houston with a touchdown and two interceptions for a 38.8 passer rating. That dropped his passer rating for the season down to 87.7, which still ranks fifth in the AFC.
He's had to adapt to not having Kenny Britt with the receiver out with a torn right ACL and MCL. The Titans changed how they line up in their huddle during the bye week placing receivers on either end.
"Our mental errors are way down at the skill position, so you could maybe attribute it to that,'' Hasselbeck said.
But Hasselbeck could use a lift in the offense if the Titans could start running the ball better than just 64.3 yards per game. He said he's not so much frustrated as anxious for the yards to start coming.
"We had a glimpse of it against Cleveland I thought, and we've had days in practice where it's gone really well,'' Hasselbeck said. "We've had other days where we make it hard on ourselves in practice giving us tough looks similar to today.''
For a 13-year veteran, Sunday will be a little different for Hasselbeck. This will be only the second career start against the Colts and his first since Dec. 24, 2005. In that game with Seattle, Hasselbeck threw for 168 yards with two touchdowns for a 131.7 passer rating.
Hasselbeck thought he remembered playing the Colts a few other times, possibly in the preseason. But he doesn't really need an introduction to the AFC South rivalry with the Colts.
"They've owned this division for so long and you know (Robert) Mathis and you know (Dwight) Freeney and Peyton (Manning) and Reggie Wayne and (Pierre) Garcon. So you know all those guys, and there's some new faces,'' Hasselbeck said. "Everyone knows about Freeney and Mathis. You go against the Colts, that's the first thing you talk about.''
NOTES: DE William Hayes (back) returned to practice but was limited. He missed the Texans' game after back spasms forced him out of practice late in the week. TE Craig Stevens (ribs), S Chris Hope (left forearm) and LB Colin McCarthy (hamstring) did not practice. LG Jake Scott got a burner in his neck late and did not finish practice. Munchak said Scott should be fine.