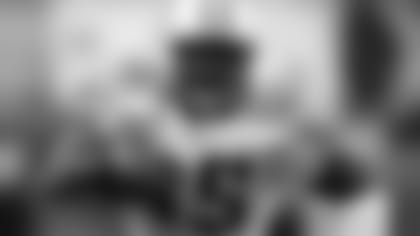 Titans FB Ahmard Hall will have to sit out the team's first four games of the 2011 season.
NASHVILLE, Tenn. - Tennessee fullback Ahmard Hall says his NFL suspension for using performance-enhancing substances is the result of a stimulant he took to stay awake on a drive from Nashville to Texas in February.
He will sit out four games without pay in a suspension announced Saturday along with the Titans' roster moves.
In text messages to The Associated Press, the former Marine said he has never taken steroids and that teammates, coaches and team officials know he took a stimulant.
"This happened back in February after the season, I basically took a stimulant to stay up while driving from Nashville to Texas, and was tested the next day at my home,'' Hall wrote. "We appealed the decision back in March, but it was denied and I was informed today.''
His suspension begins immediately, and he will return to the active roster Oct. 3 after the Titans play the Cleveland Browns.
Tennessee swapped an undisclosed future draft pick to the Green Bay Packers for fullback Quinn Johnson to fill the gap in an offense that will center on the running game. Johnson, a fifth-round pick out of LSU in 2009, has played in 20 NFL games, including four starts last year for the Super Bowl winners.
Hall signed a one-year contract to return to the Titans for his sixth season with Tennessee. He signed with the Titans as a free agent after walking on at Texas. He is a key blocker for three-time Pro Bowl running back Chris Johnson, whose 4,598 yards rushing over the past three seasons leads the NFL.
"We have known that a suspension was a possibility for some time, and we have used the preseason to identify players that would fit the mold of what we needed, if Ahmard had to miss games,'' Titans general manager Mike Reinfeldt said in a statement. "Johnson is a traditional, downhill, blocking fullback who we think will fill that need. He is a former fifth-round pick, who has done a nice job over the last two years for Green Bay.''
This is the second straight season the Titans have had a starter miss the first four games of the season due to such a suspension. Linebacker Gerald McRath sat out the first four games last year.