**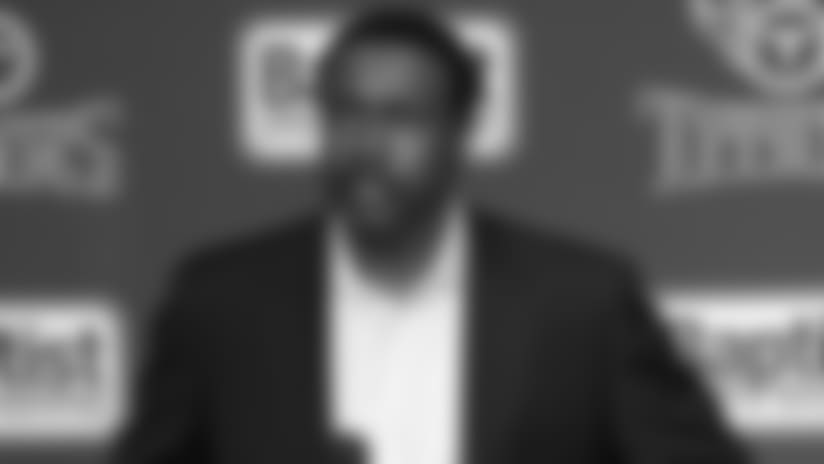 Jerry Gray takes questions from reporters during a Tuesday news conference introducing him as defensive coordinator for the Titans.
NASHVILLE, Tenn. --** New Titans coach Mike Munchak insists that having worked or played for the old Houston Oilers is not a prerequisite to join his coaching staff.
Munchak introduced former Oilers teammate Jerry Gray as his new defensive coordinator on Tuesday, about an hour after the Titans announced the hiring of Chris Palmer as the offensive coordinator. Palmer's first job in the NFL was with the Oilers as wide receiver coach between 1990 and 1992 - when Munchak was still a player for the franchise.
"That's not something I even think about when I'm looking at people,'' Munchak said. "It just happens it's been falling that way so far. I think that's a good thing. There must be a reason it's happening that way.''
Munchak's first hire was former Oilers teammate and Hall of Fame lineman Bruce Matthews to replace himself coaching the offensive line. He still has to hire a receivers assistant, running backs coach and defensive line coach along with a couple other assistants and wants to wrap up his staff by the time the NFL combine starts Feb. 24.
He couldn't be happier that Gray accepted his job offer.
They had been teammates with the then-Houston Oilers, and Munchak was offensive line coach when Gray became defensive quality control assistant in 1997 with the then-Tennessee Oilers. Gray coached the defensive backs when the Titans went to the 2000 Super Bowl and followed up with a 13-3 record the next season.
Gray left after the 2000 season and joined Gregg Williams in Buffalo as the Bills' defensive coordinator, so Munchak said he got to coach against Gray's defenses. Munchak didn't think long when targeting the man he wanted as his defensive coordinator.
"I knew him as a player, as a coach and as a coordinator,'' Munchak said. "I got to witness all three of those over a 20-year span.''
Gray couldn't pass up the chance to be a defensive coach in the NFL, where he thinks he fits best. Gray said Tuesday that about 10 of his former players - including cornerback Samari Rolle to linebacker Takeo Spikes - called and encouraged him to return to the league.
Joining Munchak meant switching jobs after spending a month in his last new job as Texas' defensive backs and assistant head coach at his alma mater, a move that hasn't made very popular with Longhorns' fans. But Munchak offered a rare opportunity at one of only 32 jobs and the chance to work on Sundays.
"The position was different, gives me a chance to make calls on Sunday as compared to listening to the calls being made on Saturday. It's not a dictatorship, but I think I'm at my best on Sundays,'' Gray said.
Munchak wants flexibility in his defensive coordinator, and Gray knows the 4-3 defense well but got some exposure to the 3-4 defense while working as a defensive backs coach in Seattle in 2010. But Gray said he knows well enough to be flexible and fit his defense to what his players do best. He also focuses his defenders on a couple options to avoid overthinking on the field.
Gray has his work cut out for him in Tennessee.
The Titans went 6-10 and ranked 26th in total yards allowed, 29th in yards passing (252 yards per game) and were on the field longer than any other NFL defense. But they ranked eighth with 40 sacks and tied for 11th in interceptions. Gray has studied five or six games already and said he saw the Titans missing a lot of close plays.
"Now if you make those plays, you go 13-3 like we did in 1999 and 2000. If you miss those, you don't. That's the biggest difference I think in winning or losing in the NFL is that fine a line,'' Gray said.
Gray wants to call all the Titans on defense as soon as possible and introduce himself, but time is running out before the current labor deal expires March 3. Coaches won't be able to contact players without a new labor agreement.
Munchak isn't sharing how many people he talked to before hiring Palmer, 61, to coordinate his offense. Munchak wouldn't say how many teams the Titans contacted for permission to talk to coaches about this job or how many said no. NFL rules only allow coaches under contract to talk to other teams for promotions to head coach.
He met with Palmer over the past couple days and hired the man with plenty of experience who also had the same job with two other AFC South teams in Jacksonville and Houston. Palmer was head coach of Cleveland when the Browns returned as an expansion and won a Super Bowl ring as quarterbacks coach with the Giants working with Eli Manning.
Palmer has coached in the NFL, USFL, CFL and was head coach of the UFL's Hartford Colonels last season. He also has groomed quarterbacks from Mark Brunell to David Carr to Manning, which the Titans will need. They are trading or releasing Vince Young this offseason and are in the market for a new quarterback through the draft or via trade.
"The quarterback situation, we don't know what that's going to be,'' Munchak said. "He's been around a lot of great quarterbacks. He's done a great job developing a lot of guys in the league. He has a great demeanor for it.''