PHOENIX – Way back in high school, Reed Blankenship met Kevin Byard while on a recruiting visit to MTSU.
Byard had just finished his first NFL season with the Titans, and he was back on campus training. The interaction was a good one, and in time they'd meet again.
The opportunity presented itself again back on December 4, in Philadelphia.
Reed, now an NFL safety himself with the Eagles, searched for Byard in pregame before the Titans game in Philadelphia. He wanted to swap jerseys with Byard after the game.
"I kind of hated to bother him – he's like a celebrity to me," Blankenship said of Byard.
Reed and Byard exchanged jerseys, and Blankenship said it was one of the year's highlights.
He's here for another: Blankenship is getting ready to play in Super Bowl LVII.
"Kevin was always a role model for me when I was at MT," said Blankenship, who is in his rookie season. "Seeing him have so much success when I was in college, being in the same footsteps as him, it means a lot. I look up to him as a player, and as a guy, too. I know he's been a great example for a lot of guys from the school."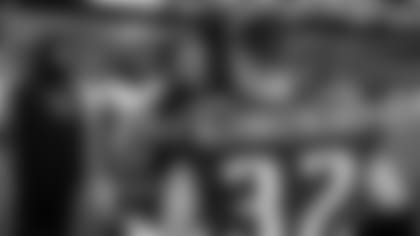 Blankenship is one two former MTSU players set to play in this weekend's Super Bowl.
Chiefs linebacker Darius Harris is also preparing to play in Sunday's Super Bowl.
Harris played with Blankenship at MTSU, where he was also teammates with Byard.
"I knew Reed would be in the NFL one day, too, but I never thought we'd be in the Super Bowl playing against one another," Harris said. "I'm happy for him, and I just think it's so cool just to put MTSU on the map. It shows they do produce players who can go to the league and accomplish their dreams."
Harris said he also looked up to Byard, and he also credited him for showing other Blue Raiders the way.
"In the offseason, I started out training with him a little bit," Harris said of Byard. "He's just a good guy, a good leader, someone to look up to as a man and as a person.
"Every time I see Kevin, he always gives me encouraging words. He's a heck of a player, and he has always helped me. He's like a big brother to me."
Byard, a two-time Pro Bowler and a four-time captain who is now in his seventh NFL season, said he's happy to see players from MTSU doing so well, and in the Super Bowl.
"I am proud of their success," Byard said. "I am proud of them reppin' MTSU the right way."
Byard, who set a school record with 19 interceptions and had his jersey retired by the school this past season, said on Thursday he's also humbled by what the former MTSU players said about him from the Super Bowl.
Even if it makes him feel like he's getting older.
"The impact I was able to make at MTSU, with the plays I was able to make on the field, but also off the field, I think guys look up to it," Byard said. "But I guess it also does kind of let you know you're getting a little older.
"I remember when I was coming out for the draft, I was saying that Eric Thomas was a guy I looked up to. It just shows you the legacy certain guys leave. The fact guys are looking up to me, I have to continue to carry that torch."