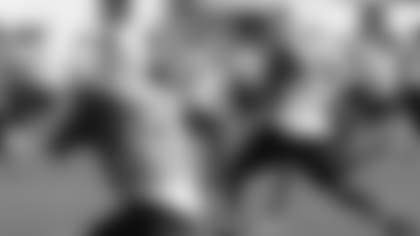 Veteran cornerback Tye Hill had a nice showing on Friday, intercepting a Rusty Smith pass and breaking up another pass on the ensuing play.
• The Titans practiced Friday morning at 8:30, marking the earliest start to a training camp practice that has been open to the public.  Despite the early start, the Titans fans still had a strong showing.
• During the team period Tye Hill had a strong showing, as he intercepted a pass and had a nice return.  On the very next play, Hill got in front of his man and broke up another pass.
• Alterraun Verner continues to impress, as he recorded two pass breakups during team drills.
• Friday's practice had a nice pace to it. The veterans were dismissed about 10 minutes earlier than the rookies and some select newcomers opted to stay longer to get in some extra work.
Off the field Q&A with Fernando Velasco
What is your favorite thing about Nashville?
"The people, they are friendly—I just like the atmosphere, it's a real friendly city."
What did you do during the offseason?
"I'm from Georgia, so I just went back to Georgia and worked out and hung out with friends and family."
Favorite hobby off the field?
What are your plans after football?
"I want to get involved with young people somehow.  I've got a health and physical education degree, so I'm not sure if I want to go into coaching for sure, but definitely something with the youth."
What's your favorite food?
"Fried chicken, hands down."
What's your favorite video game?
"I'll go with the old guy, Kobe."
Which one of your coaches would you want to see on Dancing with the Stars?
"(Offensive Coordinator, Mike) Heimerdinger."
If you were on a reality television show, what would it be?
What three people, living or dead, would you most want to have dinner with?
"My grandfather, he passed away when I was in my early teens, President Obama and last but not least Martin Luther King."
(on Jared Cook's play during the last week)
He's actually been doing well since camp started.  I thought he played well in the ball game.  He blocked well.  He's been making plays the last couple of days deep down the field which is important.
(on getting Tye Hill back from his injury)
He couldn't finish yesterday.  He's been working back off injuries.  It's good to see him come back out.  We got (Ryan) Mouton back out here today.  It's good to have some cornerbacks on the field because our numbers were going down.  It's encouraging.  But Tye has been working.  He has a lot of ability and hopefully he will be able to get some things done this weekend.
(on what he has seen out of Damian Williams returning kickoffs)
Well, this is just our second preseason game.  We're going to get Marc (Mariani) some opportunities.  Then we'll give Damian (Williams) some opportunities both as a punt returner and a kickoff returner.  I'm comfortable with him because he has decision making abilities, he's got run skills, and he can handle both of those kicks.
(on Sen'Derrick Marks' improvement)
It started with his commitment in the offseason.  He needed to get in the weight room and he did.  He gained strength and explosion and it has carried over in the ballgame.  He played a significant number of plays and it was effective.
Daily Trivia Question(answer on Saturday, August 21)
Which current Titans player has played in the most games against the Titans?
Which NFL team's home stadiums have the Titans never played a regular season game in?