**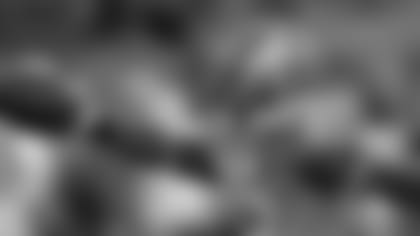 DT Jovan Haye (top) and WR Nate Washington have been productive additions for the Titans in 2009.
NASHVILLE, Tenn. **— The Titans finished the 2008 NFL season with the best record in the league at 13-3, but with an early playoff exit, a few key offseason acquisitions needed to be made. The Titans did just that by signing wide receiver Nate Washington and defensive tackle Jovan Haye. Currently in their first training camp with the Titans, both players have noticed the difference in the way their current team runs camp.
"It's been a long process but in the same breath we're getting something done and getting better each day," said Washington, who caught two passes for 25 yards in his preseason debut at the Hall of Fame Game. "We're learning something different each day as a unit and it's all working out pretty well right now. We still have a long road to go. It's going pretty good right now. We're very glad with the progress we're making."
Washington signed with the Titans after spending his first four NFL seasons with the Pittsburgh Steelers, two of which they won he Super Bowl. While in Pittsburgh, Washington was the third receiver behind veteran Hines Ward and Super Bowl MVP Santonio Holmes. Washington has the ability to spread the field and provide a deep receiving threat for opposing defenses to contend with. He has demonstrated that throughout training camp, hooking up with quarterback Kerry Collins on multiple deep passes for potential touchdowns.
Washington was drawn to Tennessee by the chance of taking his game to another level. Even though there have been speed bumps in the transition, Washington says, "It's going alright. It's kind of tough being that it was a totally different situation in Pittsburgh as the number three receiver and it's a lot bigger role here. The guys are helping me get through it and are not making me feel like there's any extra burden on my shoulders or any extra work I have to do. They allow me to play my type of ball and I think that's making my adjustment a lot better."
There is still work to be done on offense and Washington knows that. "We're just trying to continue to stay hungry and not be complacent," he said.
Haye, meanwhile, was added to help fill a void left by the free agency departure of defensive tackle Albert Haynesworth. Haye, who played his college football at Vanderbilt, is happy to be back in Nashville. Signing as a free agent from Tampa Bay, where he spent his previous three seasons, Haye is adjusting to a new camp, new coaches, new teammates and a new playbook.
"It's going along well. I'm starting to figure it out, but I'm not where I want to be," said Haye, who registered three tackles and one sack against his former team last week.
With over five years of NFL experience, Haye is still learning the game. This season he is adjusting to the way things are run at Baptist Sports Park.
"I'm learning not just from a football aspect, but the philosophy of this defense and your position and what they expect from you is a little different. I'm nowhere where I want to be, but I think I'm taking some good steps."