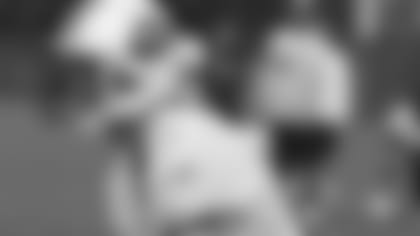 Free agent wide receiver Bobby Sewall left a huge impact on a young Titans fan recently visiting training camp at Baptist Sports Park.
NASHVILLE, Tenn. --** As much of the attention from today's society is focused on negative stories, the positive ones often slip through the cracks.  While heart-warming stories are certainly not rare, it seems they receive a lesser focus from the general public these days.

With that being said, meet Tyler Edwards of Gallatin, Tenn.  Tyler seems to be your ordinary nine-year old boy.  It is nearly impossible to wipe the smile off of his face.  He plays little-league football for Station Camp and has been a staple in the crowd at Baptist Sports Park watching his favorite team practice at training camp.  Though he is only nine, he dreams big.

"I want to play offensive tackle for the Titans one day," Tyler said in an interview on Tuesday.  "If it's not playing football, then I would like to become a preacher, but hopefully football."

Tyler was on hand for training camp on Sunday, Aug. 1 and hung around afterwards as some of the players signed autographs for fans.  Rookie wide receiver Bobby Sewall approached Tyler's area of the chain-link fence.  While Sewall was interacting with fans and signing footballs, Tyler made a comment about the receiver's WWJD (What Would Jesus Do?) bracelet that he was wearing.

Bobby was taken back by the comment and proceeded to ask Tyler if he was a believer in Christ.  AP sports writer Teresa Walker was on hand to hear Tyler's response, which sounded more like a line from a movie script than anything else.

"Yes, (I believe) because my daddy is in heaven with Steve McNair and I know I'll see him again one day," he said, per Walker.

Tyler stoically dismissed apologies from players, saying that his father was fine in heaven and that it was a matter of time before he would get to see him again.  Sewall was so impressed with Tyler and his demeanor that he talked with him and his mother for several minutes.  He gave him a signed pair of gloves and signed his late father's worn 1999 AFC Championship hat before entering the locker room.  The chance encounter left a serious impression on Sewall, a rookie free agent out of Brown.

"It was really gratifying and amazing to see that a little gesture can go such a long way in making a kid happy," Sewall said. "To see how there are so many believers out there is amazing.  If something tragic happens, it is amazing how people manage to find the positives and keep pushing forward.  It makes you really see the big picture on things.  Life is bigger than just football and it makes me really feel lucky to play for the Tennessee Titans."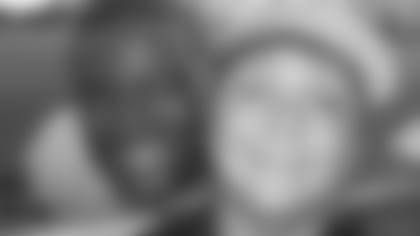 Tyler (right) pictured with running back Javon Ringer after a recent training camp practice.
There is probably no one that has felt the impact of the encounter more than Tyler's mother Tammy, who was widowed after losing her husband, Michael Edwards, in 2005 to terminal cancer.  Though he was only given two months to live in a 2001 prognosis, he valiantly fought the disease for four years.  During this time, her husband was able to create many memories with his family, memories that Tyler now cherishes.

Moved to tears, Tammy can't help but be thankful for what Sewall did for her son.

"No. 15 (Sewall) especially has my heart because of his strong faith," she said. "God brought him to my son.  I just feel like my son can be a stronger person knowing that he has such a strong role model."

Meanwhile, Sewall is trying to make a roster that is strewn with talent at the wide receiver position.  Although it is an uphill battle, he has been a pleasant surprise during training camp, displaying a strong work ethic and picking up the offense quickly. He has even been seen staying on the field after practice taking pointers on routes from second-year wide receiver Kenny Britt.

Sewall was a three-time All-Ivy selecting at Brown, finishing with 210 career receptions for 2,141 yards.  He scored 34 touchdowns in his last three seasons, more than anyone else in the Ivy League.  As a senior, he was named a preseason All-American.

No matter what awaits Sewall on the football field or off, he can rest assured that he has positively influenced a particular youngster's life.  He offered some words of advice for Tyler before practice on Tuesday.

"I want to tell Tyler to continue to have faith in God.  Put your trust in Him because hat has carried me a long way," Sewall said. "Also to follow what you believe in and do what you believe in - whether for Him or it turns out to be football or something else, just to put all of your effort into that and leave your trust in God.  If you trust in God, things will turn out alright."

Tammy now sees all of the Titans players as role models for her son.  She is very impressed with the way they carry themselves and feels like they sometimes are viewed unfairly by fans and media.

"Never give up on any pro athlete, no matter what they have done wrong.  The love that they have for these children is wonderful," she said. "My child doesn't have a father, but watching these men these past few weeks, they have really stood up in his eyes as role models.  I try to put him around Godly men, and these Godly men came up to him and I'm so grateful for that."