NASHVILLE – William Arthur Johnson was a 15th round pick (365th overall) in the 1974 NFL Draft, a small, little-known player from tiny Widener University in Chester, Pennsylvania.
Not many folks gave him a chance to shine in the league back then as he embarked on his playing career with the Houston Oilers.
"There were some naysayers, because of my size, and because of where I went to school," Johnson said. "But there were also people pulling for me because I was an underdog. I kind of looked at it as: I had everything to gain and nothing to lose. And I was willing to do whatever it took to stay around."
Johnson stuck around, all right.
He became a star, in fact.
Now he's up for consideration for the Pro Football Hall of Fame's Class of 2023.
William Arthur Johnson, you see, is better known as Billy "White Shoes" Johnson, who had a heck of an NFL career while playing with the Oilers and Falcons. Johnson is regarded as one of the best returners in the history of the NFL, and he also posted some pretty good numbers as a receiver as well.
Earlier this month, Johnson was named one of 25 semifinalists for one of the three senior candidate spots, something that thrilled the dynamic player who also made a name for himself with his entertaining end zone celebrations.
"Being mentioned as a Hall of Famer, that's big-time, I think," Johnson said with a smile. "For me, I am just glad to be mentioned. I look at it as: The league doesn't owe me anything. When I played, I played to have fun, and I enjoyed it. But it is good to be recognized among your peers."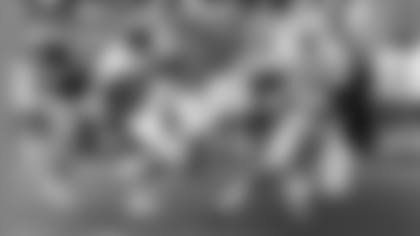 Fifty-four Seniors, Coaches and Contributors were named as potential candidates to be members of the Pro Football Hall of Fame's Class of 2023.
The Hall's 12-person Seniors Committee trimmed a list of eligible nominees to 25 Semifinalists who advance to the next round of consideration.
In addition to Johnson, Ken Anderson, Maxie Baughan, Mark Clayton, Roger Craig, LaVern Dilweg, Randy Gradishar, Lester Hayes, Chris Hinton, Chuck Howley, Cecil Isbell, Joe Jacoby, Mike Kenn, Joe Klecko, Bob Kuechenberg, George Kunz, Jim Marshall, Clay Matthews Jr., Eddie Meador, Stanley Morgan, Tommy Nobis, Ken Riley, Sterling Sharpe, Otis Taylor and Everson Walls rounded out the group.
The respective selection committees now will consider the candidates and vote to send 12 Seniors and 12 Coach/Contributors through to the Finalists stage. The results of those reduction votes will be announced July 27. The Seniors Committee will meet Aug. 16 to select up to three Seniors for final consideration as members of the Class of 2023.
Long-time Houston Chronicle sports writer John McClain covered Johnson during his playing days with the Oilers, and said he'd love to see him get consideration.
"Billy is one of the greatest returners in NFL history, right up there with Devin Hester," McClain said. "I would love to see him advance from semifinalist to finalist so we could talk about him at our annual meeting. I wish him the best of luck."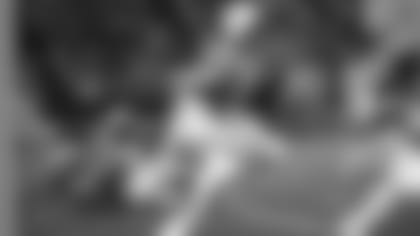 During his 14-year NFL career (Houston Oilers, 1974-1980; Atlanta Falcons, 1982-87; Washington Redskins, 1988), Johnson was named to three Pro Bowls.
Johnson's NFL career stats include 337 receptions for 4,211 yards and 25 TDs, 282 punt returns for 3,317 yards and six TDs, and 123 kickoff returns for 2,941 yards and two TDs.
In 1994, Johnson was selected as the punt returner on the NFL 75th Anniversary All-Time Team. He remains the only man selected to the NFL's 75th Anniversary All-Time Team who is not in the Pro Football Hall of Fame. Later, Johnson was named to the 100th Anniversary team as the punt returner.
He was named to the NFL's 1970s All-Decade team, and to the NFL's 1980s All-Decade Team.
Looking back, Johnson said he had a blast, from his 'Funky Chicken' dance to the white shoes to the camaraderie.
He laughs now at the size he was listed at by NFL teams – 5-foot-9, 170 pounds.
"Sometimes I played around 156 pounds," Johnson said with a smile. "I tried to come into camp around 160-165, but in training camp (you lose weight). But I was around big guys all the time, so I didn't think of myself as a small guy."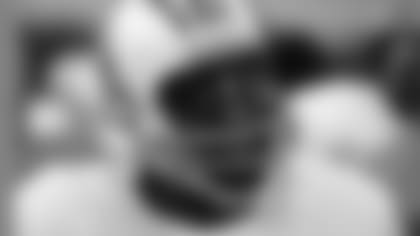 Roughly 35 years after his playing career ended, Johnson hopes others feel he made a lasting impact on the game.
"When you look at guys like Jim Brown and even O.J. (Simpson) and Earl (Campbell), Earl changed the game because he ran hard and guys had to get different kinds of pads to deal with him," Johnson said. "You look at what Joe Namath did, he changed the game.
"Hopefully, as a punt returner and a guy who enjoyed the game, I did something. They always want to talk about end zone dancing, for entertainment purposes. I just enjoyed it, and I am thankful that I was able to have the career I had and thankful I was able to play with the guys I played with. Those are the guys who helped make it happen, and I would be remiss if I didn't say that."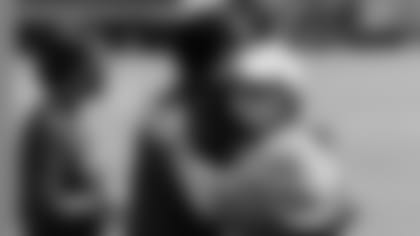 Johnson, who played for the Oilers under long-time owner Bud Adams, said on Tuesday that while he hopes he'll get consideration by Hall of Fame voters, he really wants Adams to be voted in.
Johnson said it was Bud's daughter, Titans controlling owner Amy Adams Strunk, who actually delivered the news to him that he'd been named a semifinalist.
Bud Adams last week was named one of 29 semifinalists in the coach/contributor category for the Pro Football Hall of Fame class of 2023. He's now in a pool of candidates who will be considered for a vote by the selection committee that will send 12 Seniors and 12 Coach/Contributors through to the finalists stage. The results of those reduction votes will be announced July 27.
"Amy was the first one to let me know about me being a semifinalist, and that was just another example of what a caring person she is, the way she stays in close contact with her former players," Johnson said. "Her dad, if Bud doesn't go in, now that's a travesty. Here's a guy who founded the old AFL, which parlayed into the old AFC, which parlayed into one of the better conferences in the NFL. I mean, c'mon, he was one of the guys who really got it started. If he doesn't go it, there's something wrong.
"For me, it would be fantastic if it happened. And don't get me wrong – if it doesn't, I am going to live life and enjoy myself, but boy, it would be nice to have that label. But make sure you give a plug for Bud, because I think he really deserves it also. Not just for Amy, but because what he did speaks for itself."