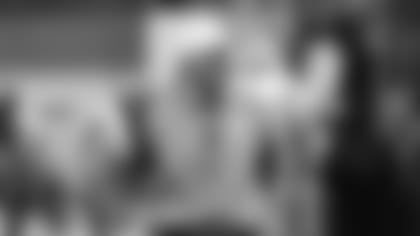 Jack Pardee led the Houston Oilers to playoff berths in each of his first three seasons as head coach from 1990-93. Click here to view a photo gallery of his NFL career.
HOUSTON (AP) --Jack Pardee, one of Bear Bryant's ''Junction Boys'' at Texas A&M who went on to become an All-Pro linebacker and an NFL coach, died Monday.
In November, Pardee's family announced that he had gall bladder cancer that had spread to other organs and that he had six to nine months to live. The family has established a memorial scholarship fund in Pardee's name at the University of Houston, where Pardee coached from 1987-89.
''Today, we mourn the passing of a great man who dedicated his life to the game of football and was a true gentleman in every sense of the word,'' Houston athletic director Mack Rhoades said.
''It was not a coincidence that success followed coach and his teams wherever he worked, and the University of Houston program was blessed to have him lead our football program during some of our most exciting times.''
Pardee was born in Iowa and moved to west-central Texas as a teenager.
He played six-man football at Christoval High School before moving on to Texas A&M. Bryant became the Aggies' coach in 1954 and moved their preseason camp to desolate Junction, about 100 miles northwest of San Antonio.
The state endured a severe drought and an historic heat wave that year, but Bryant worked his team through the brutal conditions and refused to allow water breaks in an effort to toughen players. Pardee was one of 35 players who made it through to the end of the 10-day camp without quitting.
Pardee played three seasons at Texas A&M and was the 14th overall pick in the 1957 NFL draft by Los Angeles. He played for the Rams from 1957-64, sat out a year to deal with melanoma, and played seven more seasons. He finished his playing career with the Washington Redskins in 1973 and coached the team from 1978-80.
''In his time both on the field and on the sideline, Jack Pardee will forever be a part of the Washington Redskins' legacy,'' owner Daniel Snyder said in a statement.
''He will be remembered not just as a linebacker for the 1972 NFC Champions, nor as just the coach for our franchise. He will be remembered as someone whose spirit truly embodied the values that we associate with the burgundy and gold.''
Before the NFL, Pardee coached in the World Football League. He was the Chicago Bears head coach from 1975-77, moved to the Redskins and was fired after Washington went 6-10. Pardee served as San Diego's defensive coordinator for one season, then returned to Texas to coach the USFL's Houston Gamblers.
When the USFL disbanded in 1987, Pardee became the coach at the University of Houston and brought along the fast-paced ''Run-and-Shoot'' offense that worked well with the Gamblers.
The NCAA levied severe sanctions on the program in 1988, the result of violations committed under previous coach Bill Yeoman. Houston was banned from playing in a bowl game for two years and banned from playing on television in the 1989 season.
But the Cougars led the nation in total offense (624.9 yards per game) and passing offense (511 yards per game) in 1989, and quarterback Andre Ware became the first black quarterback to win the Heisman Trophy. Houston finished 9-2 and ranked No. 14 in the nation.
''When you talk about the great offenses in the history of college football, coach Pardee's run-and-shoot teams from the late 1980s must be considered near the top of that list,'' Houston coach Tony Levine said.
''We continue to feel the impact from his innovative ideas and leadership of those teams in college football today, and our thoughts and prayers go out to all his family and friends.''
His Houston teams were a precursor to the high-flying offenses now common in college football. He coached the Cougars to a 95-21 win over a just-back-from-the-NCAA-death-penalty SMU team in 1989.
The Cougars became the first team in NCAA history to finish with more than 1,000 yards of offense, as they piled up 1,021 yards in the win where Ware was on the bench by halftime.
Pardee became the coach of the NFL's Houston Oilers in 1990, and led the team to the playoffs in each of his first four seasons. Oilers owner Bud Adams traded star quarterback Warren Moon to Minnesota before the 1994 season, and Pardee resigned after a 1-9 start that year.
He ended his NFL coaching career with a record of 87-77.
Pardee's last coaching job came when he worked for the Birmingham Barracudas of the Canadian Football League in 1995. His name emerged several years later for the Houston job, but the school hired Kevin Sumlin instead. Ted is the color analyst for Houston football radio broadcasts.
''When my father was diagnosed back around Thanksgiving, we were able to have many great conversations about the past and the future,'' Ted said in a statement.
Pardee and his wife, Phyllis, were married for more than 50 years and have five children and 12 grandchildren.
Funeral arrangements were pending Monday night.