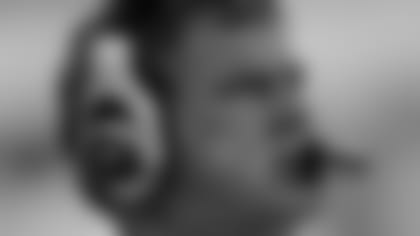 Former Titans offensive coordinator Mike Heimerdinger passed away from a rare form of cancer at 58.
NASHVILLE, Tenn. --Mike Heimerdinger, a veteran assistant coach in the NFL who directed high-powered offenses and developed quarterbacks such as Steve McNair, Jay Cutler and Vince Young, has died. He was 58.
The Tennessee Titans confirmed Heimerdinger's death after talking with his family. He died Friday while in Mexico to receive experimental treatments for a rare form of cancer. He was offensive coordinator for the Titans when he was diagnosed with cancer in November 2010.
"Mike approached cancer with the same vigor and tenacity that he approached any football game - to win,'' Heimerdinger's wife, Kathie, said in a statement. "Even in the final minutes he never gave up - that was our Dinger. He was a deeply devoted husband and father, loving son and brother, loyal friend and committed coach who loved the game and life.''
Heimerdinger began chemotherapy treatment five days after the diagnosis a day before last Thanksgiving. At the time, then-coach Jeff Fisher said Heimerdinger had been very sick for three weeks.
Heimerdinger made a trip to Houston with the team for that Sunday's game and was greeted on the field before the game by his son, then an intern with the Texans.
He maintained his duties for the rest of the season but was fired in February, one day after Mike Munchak succeeded Fisher as Titans' coach.
Heimerdinger was in his second stint as the Titans' offensive coordinator. The man called "Dinger'' was college roommates with veteran NFL coach Mike Shanahan and served as the receivers coach of Shanahan's Denver Broncos from 1995 to 1999, when the team won two Super Bowls.
He helped coach McNair to co-MVP of the NFL with Peyton Manning in 2003 during his first run in Tennessee, where he was offensive coordinator from 2000 to 2004.
Heimerdinger spent 2005 as offensive coordinator of the New York Jets before rejoining Shanahan in Denver as assistant head coach in 2006 and 2007, when he helped develop Cutler. Then it was back to Tennessee for three seasons as offensive coordinator.
"He was a great coach and a tough coach,'' Titans running back Chris Johnson, who was NFL Offensive Player of the Year when Heimerdinger was his coach, said. "I know I wouldn't have become the player I am without his confidence and the trust that he showed in me. My thoughts go out to his family.''
In Denver, he worked for Shanahan and coached the dynamic wide-receiving tandem of Ed McCaffrey and Rod Smith.
"We lost a very special person and my best friend in Mike Heimerdinger,'' Shanahan said in a statement. "I know the man upstairs needed a superstar so he took him earlier than we all wanted. His love for his family was unprecedented and I will forever miss him.''
Broncos football chief John Elway, quarterback of the franchise's two Super Bowl teams, tweeted: "The world lost a great coach and a great man in the passing of Mike Heimerdinger. He was a big part of our championship years.''
Heimerdinger was born in Dekalb, Ill., and was a wide receiver and centerfielder at Eastern Illinois University where he received a degree in history. He was inducted into Eastern Illinois' Hall of Fame in 2008. He also earned a master's degree in administration from Northern Illinois.
He spent four years as a high school coach in Fox Lake and McHenry, Ill., in the late 1970s, and then was a coach at the Air Force Academy, North Texas State, the University of Florida, Cal State-Fullerton, Rice and Duke.
In the NFL, Heimerdinger coached Manning in a couple of Pro Bowls, and they played golf together in the offseason, and Manning noted Saturday that Heimerdinger was close with veteran quarterback Kerry Collins, now with the Colts, and a couple other players in Indianapolis.
"So it's sad around here today as well,'' Manning said in a statement. "He was a man's man. I appreciated his friendship. I am sorry and sad about his passing. He will be missed, and my prayers are with his family.''
Collins called Heimerdinger a great friend who will be sorely missed.
"Those of us that were fortunate enough to know Dinger will always remember his passion for life and love of the game,'' Collins said in a statement.
New York Jets receiver Derrick Mason sent his prayers to the Heimerdinger family on Twitter. Heimerdinger was Tennessee's offensive coordinator when Mason got the chance to play receiver in the NFL after having worked as a returner.
"Dinger gave me a opportunity and I will forever thank him for that! Great teacher!!'' Mason wrote.
Heimerdinger also leaves a daughter, Alicia, and a son, Brian.
"You don't expect these types of things to happen and they shouldn't happen,'' Titans tackle Michael Roos said. "I felt confident that he was going to beat this after seeing his resolve last season in dealing with it. He was such a competitor and a fighter - the things that made him such a good coach were also the traits that I thought would lead him to beat the cancer.''