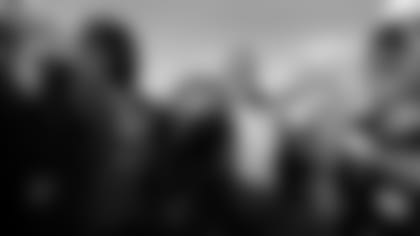 Head coach Jeff Fisher's team has its core nucleus in place from last year's 13-3 squad.
NASHVILLE, Tenn. --** It wasn't much of a surprise to see that Titans quarterback Vince Young followed his shaky preseason debut against Buffalo in the Hall of Fame game with a solid performance this weekend against Tampa Bay. Coach Jeff Fisher said Young has had a solid camp -- and a good stretch of practice last week -- and that there wasn't much doubt that he would eventually gain traction.
The bouquets owner Bud Adams threw his way postgame should add to Young's confidence as he moves forward. Yet, as Fisher said, "He is our No. 2 quarterback. He took us to the playoffs two years ago. He has his defining moment early in his career.
"In his case, when he got hurt [last season] I put somebody in there and he started winning games and now he's the leader of the offense."
While Young draws the headlines, starting quarterback Kerry Collins has earned immeasurable credibility and respect with his teammates and coaches. Collins is being hailed by players the same way Drew Brees, Tom Brady and Peyton Manning are by their teammates. And it's not just because he unexpectedly took over for Young last season, started 15 games and led the Titans to 13 regular-season wins and earned a Pro Bowl berth. It's more because he spent his entire offseason working with teammates after signing a two-year, $15 million contract extension, and seized command of everything, from the playbook to the locker room.
"I'm having a training camp where I can be with the [first offense] and I'm a lot more comfortable because I got thrown into it last year," Collins, 36, said.
Said tight end Alge Crumpler: "He really appreciates the opportunity he has at this point in his career. To step under center and play the whole season. He was here pretty much every day this offseason growing with us. You can see that he knows where to put everybody. He makes sure we're all in place so we can all be successful."
Added safety Chris Hope, addressing how Collins' leadership has spilled over to a defense that has more than its share of leaders: "This is his first full season going through the offseason as a starter, so he's been here a lot more and he looks a lot better and feels a lot better working with everyone."
The main area where Collins has grown, teammates said, is he is spreading the ball out to a variety of receivers. Tennessee's identity will continue to be built around its dominant running game, but the Titans are insistent on upgrading the passing attack. And with Collins showing such efficiency, thus far, Tennessee might end up being more than a handful on offense.
» Though they got knocked out in the playoffs by Baltimore, Tennessee was the best overall team I saw last season. Its ability to physically impose itself along both lines of scrimmage was something teams are constantly striving for. There should be no drop off in that regard on the offensive side of the ball. The Titans return every player from that unit. Center Kevin Mawae (elbow) is on the PUP and he could be for a few more weeks, but the rest of the unit looks crisp, and mean, and unfulfilled by not cashing in on its potential last season.
"That's the strength of our team, no question," Collins said. "What's great about them is they can run block and pass block. It's a luxury to have a group like that in front of me at this stage of my career."
» LenDale White's weight loss should make Tennessee's running game even scarier. White is 30-pounds lighter and he's regained the second gear that was tucked under his midsection. I watched a good chunk of a practice last week with GM Mike Reinfeldt and he told me to look at how quick White was passing from the first level of the defense to the second. White's ability to accelerate through the hole is going to catch people off guard. White is still Tennessee's main short-yardage running option and will play behind speedster Chris Johnson, but instead of posting three yards and a cloud of dust, he might be more likely to leave defenders three yards behind a cloud of dust. Seriously.
"The good thing about being on a good team with good players around you is you don't want to be the weak link," Hope said. "With everybody else stepping it up, LenDale has some pride and he showed that he doesn't want to be the weak link."
Wide receiver Nate Washington was sort of an afterthought in Pittsburgh, but he is the first-thought in Tennessee's passing game.
"I'm real excited about Nate and what Nate's done so far," Fisher said. "He's much more than I thought he would be. We knew he could run but we didn't know he was capable of doing so many things."
Washington will be used primarily as a wide out but Fisher said he can play from the slot.
Said Washington: "I don't want to come in here as a third receiver. I want to come in here as a receiver who didn't get his chance before. I felt I could be a starter in this league but I understood the way things were in Pittsburgh. There you grind before the glory. Hines Ward and those types of guys ground hard to get to the top and respected the process and that stuck with me so I'm going to grind it here but I'm also going to take advantage of this opportunity."
» Unlike a lot of teams when they lose a starter in free agency, the Titans openly acknowledged that they were going to miss Pro Bowl defensive tackle Albert Haynesworth.
Second-year player Jason Jones is expected to start in Haynesworth's place and rotate with free-agent pick up Jovan Haye and rookie Sen'Derrick Marks. There are high hopes for Jones. If the rest of the D-line plays up to its potential -- and DE Kyle Vanden Bosch stays healthy -- Jones could have a very big season. Fisher also said to expect big things out of nose tackle Kevin Vickerson, who will rotate with Tony Brown.
"Jason's had a really good offseason," Fisher said of Jones. "He's gained strength, which is what he really needed to do. Vickerson has some Haynesworth traits. He's big, strong and has good feet. He can run."
Added linebacker David Thornton: "We pretty much have all our core players still in place, even with the loss of Albert. That's a big void but at the same time, we have all the linebackers back, the secondary back, most of the guys up front back so having that continuity has helped us keep things intact. Most teams lose a lot more than we did from season to season."
» The Titans' only other defensive loss was coordinator Jim Schwartz, who is now head coach of the Detroit Lions. New defensive coordinator Chuck Cecil has stepped right in and not deviated much from the scheme, but players said his play-calling is even more aggressive than Schwartz's was. Hope added that the standout secondary could be even better under Cecil, the former DB coach and concussion-causing safety back in his playing days.
"We have 10 starters returning on defense so I don't think there's going to be that much of a difference, especially since we're running the same things," Hope said. "He's going to bring his mentality to the game. That's the biggest change that we have to prepare for."
Fisher and Reinfeldt both put me on alert to Vanden Bosch's backup, William Hayes. The 6-foot-3, 272-pound, second-year player from Winston-Salem State is frighteningly strong, both said. His initial contact with tight ends or tackles is so jarring that he can gain control more times than not and be in position to make plays. He is very stout against the run and he can re-route tight ends in passing situations because he is adept at getting his hands on players and strong enough to re-direct them -- sometimes to the ground.
Though first-round selection, wide receiver Kenny Britt, and fifth-round pick, running back Javon Ringer, have created substantial buzz, tight end Jared Cook was the most talked about player during my visit to training camp. To clarify, I did not write most talked about rookie. I wrote most talked about player. A sample:
"All the QBs are developing bad habits because they're just throwing it up in the air and he's bringing it down," Fisher said of Cook.
"Every day he does at least two or three things that make you go 'Wow,'" said fellow tight end Alge Crumpler.
"Jared Cook, physically he's got a tremendous amount of ability," Collins said.
"The confidence level is here already. We have confidence. We feel like we know we can be a good team. It's not like last year when we were searching and trying to separate ourselves from the middle of the pack. We have confidence that we're one of the better teams. We just have to play like it." -- Chris Hope.
While sitting in Fisher's office, Fisher clicked the remote, fast-forwarded a video of a recent practice to a one-on-one drill between rookie tight end Jared Cook and safety Michael Griffin. Cook, blew off the line of scrimmage on a "Go" route and, in just three or four strides, was by Griffin and in an indefensible position 15 yards later when he caught a perfectly thrown over-the-shoulder pass from Collins.
"And Griff can really run," Fisher said.
Though Fisher's seen this clip dozens of times, he stared at the frozen frame, rewound it briefly and ran it again. Fisher didn't say anything, but his facial expression told it all: We've got something special here.
Crumpler won't divulge what he weighed, but he is on a weight-loss mission by directive of the team. Crumpler also wouldn't disclose his target weight, but it's above 260. He is trying his best to stay disciplined with his diet. For lunch he ate a salad but after practice, as he sat in his locker, a group of running backs sat right across from him at his locker and opened up several boxes of pizza, to his dismay. He stared at the goods, shook his head and simply said, "Nope."