NASHVILLE – The NFL Draft is coming to Nashville, and so is ESPN draft guru Mel Kiper Jr.
And Kiper is excited about it.
"This will be (draft) No. 36 (for me) with ESPN coming up," Kiper said on a conference call on Tuesday. "It was New York, and then it became Chicago, Philadelphia and Dallas. I'm looking forward to being down there. It's a great area. It's a great area to get to even if you get a chance to take a vacation without having to work it.
"It should be fun. Everybody is looking forward to going to Nashville."
The NFL Draft is scheduled to take place the evenings of April 25 (Thursday) and April 26 (Friday) and during the afternoon of April 27 (Saturday).
The main NFL Draft stage will be on First and Broadway.
Schermerhorn Symphony Center will be host to Selection Square, which features the team tables where representatives from each club will make their draft selections.
The NFL Draft Experience, a three-day football festival, will be held in the parking lots and areas surrounding Nissan Stadium.
The NFL Draft Red Carpet will take place on April 25 (Thursday) at The Green at Riverfront Park.
Concerts with "high level talent" are being planned for on the main stage on Broadway all three days, and on another stage across the Cumberland River. The performers will be announced at a later date.
Admission is free. There will be limited seating areas (and some VIP areas), but the idea is most fans can stand, and walk.
The NFL and the city are expecting crowds approaching 300,000 for the weekend in an area organizers are calling the largest festival footprint ever for an NFL Draft.
Also, the Titans are scheduled to make the 19th overall pick in the first round of the NFL Draft.
ESPN, ABC and NFL Network will all be set up with broadcast booths on Broadway.
In his Mock Draft 2.0, Kiper has the Titans taking Clemson defensive tackle Christian Wilkins, a 6-foot-4, 315-pounder from Clemson, in the first round.
"Everybody, when it was announced, I know from us, all the friends, everybody wants to go to Nashville," Kiper said. "So I'm looking forward to that, being down there. It should be great.
"And I think the Titans, they are picking at No.19, there will be a lot of interest in them, trying to get back to where they want to be. So I think everybody is looking forward to being in Nashville."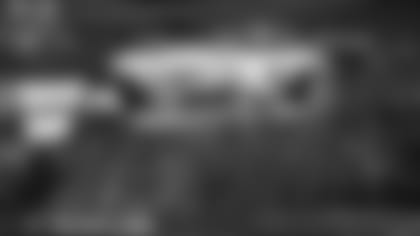 TitansOnline.com looks back at some current and former Titans players taking part in the NFL Scouting Combine. (AP Photos)