NASHVILLE, Tenn. -- Eddie George isn't ready to say the Titans are back.
George, one of the biggest stars from the glory days of the franchise, thinks the team still has work to do to become a playoff contender.
But the former Titans running back likes what he sees from the current team, especially at the quarterback position.
As George looked on from the sideline at practice on Monday night, he thought of his former teammate, Steve McNair, when he watched rookie quarterback Marcus Mariota.
"Watching him, watching his presence, he has a calming presence,'' George said of Mariota. "He is a lot like Steve, a quiet leader. He doesn't have to say a whole lot. He just gets the job done. He has command of the huddle and looks so calm and that is really impressive, especially as a rookie."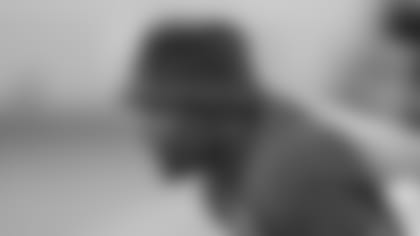 George met Mariota at the Heisman Trophy ceremony, and also spent some time with him at another Heisman event in California since. George said he talked with Mariota about expectations, and life in Nashville. He came away impressed.
"I told him, "This city will embrace you once you start winning,'' George said. "(The fans) are on fire to see what he is about and what he is bringing to the table. You can tell just by the excitement out here. Fans are fired up. There's a lot of energy."
George, who ran for 10,009 yards in eight seasons with the Titans (1996-2003), also offered high praise for another former first-round pick – left tackle Taylor Lewan.
With Mariota and Lewan, George believes the Titans are on their way to changing the culture on the team.
"Outside of Marcus, the next leader I look at is Lewan,'' George said. "He is a future All-Pro in the making. He has the work ethic, the attitude, he looks the part. He looks like he is in shape, and he looks like he is ready to take that next step as a leader. His downfield blocking, that is the nastiness I like to see up front. Now you have to practice like that every time you put your pads on, but it looks like he is ready to step up and take that on.
"You put those two guys as your leaders and then you are building toward something and setting a culture. Other leaders have to develop. Kendall Wright has the opportunity, and on defense there are some veteran guys there. In terms of a long term run, I need to see more guys emerge as leaders."
George believes the key to the offense hinges on the running game, but he's not going to put it all on running backs Bishop Sankey and David Cobb.
George's rushing success with the Titans came behind a sturdy offensive line. From 1999-2003, the Titans went to the playoffs four times. George did his part, but he pointed to the guys up front.
"I am not worried about the running backs,'' he said. "I am looking at the interior line, and if they're going to open up holes, and whether they are going to commit to the run. This team has to be able to run the football to help Marcus. Bishop will get his yards, Cobb will get his yards if they are committed to running the football. They have to be in the top 10 as far as attempts and rushing yards to be a top 10 football team. It will help the defense out, it will help Marcus out. I like the weapons, the receivers and the running backs. But their success on offense hinges on what happens up front with the offensive line."
So are the Titans ready to be a contender?
After watching just one practice, and following a 2-14 season, George won't go there.
George believes the Titans have some key ingredients in place, though, in coach Ken Whisenhunt second year with the franchise.
"This team certainly has two components I like to see, and that is the quarterback and the left tackle. Now the other parts have to support that,'' he said. "Is this a playoff team at this point? No. They have to learn how to win, and they have to learn how to win under Whisenhunt. So they are still in the process of figuring that out. Now could they be? Are they maturing to that? Absolutely. I think they have all the parts to do it, especially at the wide receiver position. But who are they? What kind of culture are they creating? I like what I have seen, but they have to be consistent."
RECOMMENDED: