**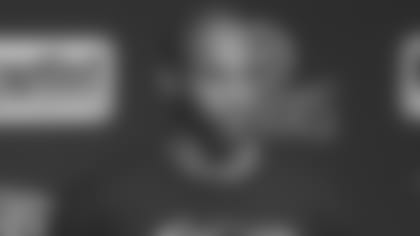 Wide receiver Justin Gage talks about facing the Houston Texans with reporters Monday at Baptist Sports Park.
NASHVILLE, Tenn. --** The Tennessee Titans had a rare couple of days off to stew over their season-opening overtime loss.
It made for a long weekend.
Not the nice weather in Nashville or the time off to make a quick trip out of town helped ease the blow of the Titans' 13-10 loss to Pittsburgh in OT on Thursday. No, the bad taste lingered until the team hit the field Monday for a light workout and officially started focusing on the Houston Texans.
"It was a tough weekend," receiver Justin Gage said.
Gage called it a good learning experience for the entire team after a lengthy list of mistakes in the opener. It also offered a nice chance to heal up.
"But as far as just getting that bad taste out of your mouth, you have to sit back and linger and watch all the other games played and pretty much wait a couple days before you get back on the field.
"It's definitely something I feel that we've learned from as a team and now we can move forward," Gage said.
Coach Jeff Fisher approached the weekend as a mini-bye for a team that had played four road games out of six counting the preseason already. Tennessee hosts Houston (0-1) on Sunday in a rare home game for a team playing four out of its first six on the road.
Injured players like tight end Bo Scaife, who had an MRI on his left knee and will be day to day, and rookie tight end Jared Cook, who missed the opener as he recovers from a sore foot, had to stick around for treatment. But Fisher put the team through a short session Monday.
"It looks like everybody's doing well," Fisher said.
The team that started 10-0 in 2008 and led the AFC South wire-to-wire now has a new challenge: Not starting 0-2, something the Titans haven't done since an 0-5 start to the 2006 season.
"All our focus is on winning the game. It's not on losing the game," Fisher said. "Our attention is to play better than we played last week. If we can do that, we'll have a good chance to win."
Fisher did admit to a sense of urgency because Sunday's opponent is a division rival. He said he knows the Texans also will be frustrated after a 24-7 loss to the New York Jets.
"They're really no different than we are. Everyone wants to get off to a fast start," Fisher said.
Tennessee leads the all-time series with the team that replaced it in Houston 11-3 and have lost only once on the Titans' home field.
But the Texans pulled out a 13-12 win last Dec. 14 that delayed the Titans from clinching home-field advantage through the playoffs by a week. Tennessee hasn't lost two straight to Houston since the 2004 season when the Texans swept a team that finished 5-11.
Gage said that loss does stick in the Titans' heads.
"Being a division game or a rival team, anytime you lose those games it hurts," he said. "Knowing this is our first chance since then to actually get to play those guys and get a little revenge you can call it.
The Titans' offense should get a few players back up to speed to help finish off drives that ended by either turnover or penalties or botched field goals in Pittsburgh. Fisher said Nate Washington, who played 26 snaps against Pittsburgh, could play 50 or 60 against Houston. Cook, who led the team in yards receiving in the preseason, also could be back along with Scaife.
"It'll be much more dynamic," Gage said.