The beginning of the college all-star game circuit signifies the second phase of the evaluation process, but draft boards across the league have already started to take shape with the official release of the underclassmen list this week.
While most scouts are just beginning their serious research on the recent entrants into the draft, they will soon submit initial reports to their respective general managers and personnel directors to help them establish a preliminary draft board.
Although the board fluctuates as more information comes in over the next few months, the initial list allows scouts to pinpoint potential fits for their respective squads.
Let's take a look at the top 25 prospects in the 2011 draft (underclassmen are indicated by a *):
**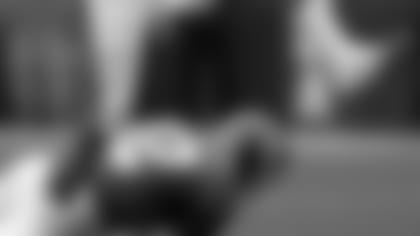 Auburn's Nick Fairly ranks as one of the top interior defensive line prospects in the 2011 NFL Draft.
1. Nick Fairley, Auburn, DT:
* A dominant interior defender with outstanding physical tools. He has the ability to play with finesse or power against the run or pass. Questions about his motor could affect his status at the top of the board, but after watching his sensational performance against Oregon in the BCS National Championship Game it will be hard to ignore his potential as franchise player.
*2. Da'Quan Bowers, Clemson, DE: A phenomenal athlete with outstanding speed and quickness. He has natural rush skills off the edge, and made dramatic improvements over the course of the season. With his best football still ahead, Bowers is poised to come off the board quickly on draft day.
*3. A.J. Green, Georgia, WR: A big-play receiver with outstanding overall skills. He shows rare polish at the position, and has the potential to be an impact playmaker from Day 1. If he passes the eyeball test in workouts and interviews, he could vault to the top of the board.
*4. Patrick Peterson, LSU, CB: A natural cover corner with exceptional physical tools. He can play from press or off, and shows a natural feel for the position. Throw in his dynamic ability as a returner, and scouts are salivating over his outstanding skill set.
*5. Marcell Dareus, Alabama, DT: A rugged defensive tackle with excellent skills. He shows good strength and power at the point of attack, and possesses enough athleticism to slip through cracks when used on the move. With dominant interior defenders coveted at a premium, Dareus will intrigue teams looking for an instant impact on defense.
*6. Robert Quinn, North Carolina, DE: An explosive pass rusher with rare speed and quickness. Though he missed the season due to a suspension, scouts will fall in love with him once they view his film from the previous season. If he works out well during the spring, he could rise quickly up draft boards.
7. Prince Amukamara, Nebraska, CB: A crafty corner with good speed, quickness and athleticism. His skill set translates well into any system, and he is one of the few polished cover corners in the draft.
8. Nate Solder, Colorado, OT: An athletic offensive tackle with good feet and movement skills. Although he is not a physical or aggressive blocker at the point of attack, his athleticism makes him an ideal left tackle.
9. Von Miller, Texas A&M, OLB: A dynamic edge rusher with explosive speed and quickness off the edge. His sudden first-step puts immediate pressure on offensive tackles, and his evolving arsenal of rush moves has made him the premier 3-4 pass rusher in this draft. With more teams moving to the high-pressure scheme, Miller will be a highly valued prospect.
10. Adrian Clayborn, Iowa, DE: A talented pass rusher with good quickness and athleticism. He shows natural skills off the edge, and has the ability to take over a game. Although his motor doesn't run high at all times, his occasional flashes of brilliance make him an intriguing prospect.
11. Cameron Jordan, California, DE: An athletic five-technique with an outstanding motor. He is relentless in his approach, and outworks blockers at the point of attack. Throw in his strength, power and athleticism, and it becomes evident why he is an intriguing prospect as a 3-4 defensive end.
*12. Blaine Gabbert, Missouri, QB: A strong-armed quarterback with good instincts and intangibles. He struggled down the stretch, so his lofty status on draft boards could fall upon further review. Regardless, he is one of the top quarterbacks available in the draft, and he will carry a solid first-round grade based on his potential.
*13. Cam Newton, Auburn, QB: A big, talented playmaker with exceptional physical tools. He possesses rare size, strength and athleticism for the position, and made tremendous strides as a passer over the course of the season. While some of his production has been inflated due to Auburn's spread system, few can match his arm strength from the pocket. Questions about his character will also affect his status, but his winning pedigree and big-game performances will make it tough for teams to pass on his talent.
*14. Julio Jones, Alabama, WR: Dynamic receiver with excellent size and skills. He looks like a classic No. 1 receiver on film, and could blossom into a Pro Bowl performer. With big, talented receivers desired in most offensive systems, Jones will carry solid first-round grades on all boards across the league.
*15. Corey Liuget, Illinois, DT: A talented interior defender with good strength and power. He effectively occupies double teams at the point, and flashes sneaky athleticism while slipping through cracks. Although his sudden emergence will lead to a potential "one-year wonder" tag, he is too talented to pass up in the first round.
16. Stephen Paea, Oregon State, DT: Big run-stopper with outstanding strength and power. He routinely stuffs runs at the point of attack, and is an immovable anchor in the middle of the defense. Given the lack of true run-stoppers available, Paea will be a sought after prospect.
*17. Akeem Ayers, UCLA, OLB: An athletic linebacker with outstanding instincts, awareness and versatility. He is capable of playing multiple spots on the second level, and is a legitimate playmaker. Given his speed and quickness, he looks like a nice fit in a 4-3 scheme.
18. Mike Pouncey, Florida, C/G: An athletic interior blocker with excellent movement skills. He shows good instincts and awareness, and is capable of making all of the calls along the line. Given his ability to log snaps at center or guard, Pouncey should be an instant starter as a pro.
19. Ryan Kerrigan, Purdue, DE: A high-motor rusher with an explosive first step. He is relentless off the edge, and routinely wins with his effort and energy. Although he still needs to develop a more complete array of rush moves, his blue-collar mentality will lead to success on the next level.
20. Anthony Castonzo, Boston College, OT: A polished technician with good feet, balance and body control. He excels in the running game, and is capable of thriving in a man or zone-based blocking scheme. Given the successful tradition of Boston College offensive linemen, Castonzo will be viewed as a safe pick at the bottom of the first round.
*21. Mark Ingram, Alabama, RB: A physical runner with exceptional feet, quickness and vision. He shows an outstanding feel for finding cracks in the defense, and his rugged style allows him to run through tackles in the hole. He might not be an every-down back on the next level, but his skills will intrigue teams looking for a dependable front-line runner.
*22. Ryan Mallett, Arkansas, QB: He might be the most talented passer in the draft. He can make all of the throws from the pocket, and shows good accuracy and touch on intermediate and deep passes. While his prickly personality and questionable mobility will cause some concern, Mallett will be a tempting prospect for teams in desperate need of a quarterback.
23. Gabe Carimi, Wisconsin, OT: A big, physical blocker with the strength to move defenders off the ball. He excels in the running game, and appears to be an ideal right tackle prospect. He will need to show better footwork and movement skills in pass protection during workouts, but he is a solid player with the potential to come off the board at the end of the first round.
*24. Muhammad Wilkerson, Temple, DT: A big-time player who is creating a buzz. He has the ability to play anywhere on the line in a 3-4 front, and scouts are salivating over his potential to dominate on the next level. He has been coached by former pro assistant Jethro Franklin, so he should enter the league well schooled on the fundamentals of playing the position at a high level. Look for Wilkerson to skyrocket up draft boards after scouts take a closer look at his tape.
25. Cameron Heyward, Ohio State, DE: He was regarded as a bit of an enigma heading into his senior season, but seemingly silenced his detractors with his solid play throughout the year. As one of the most talented players at the position, he has tremendous upside as a base end, and is an intriguing prospect carrying a late first-round grade at this point.