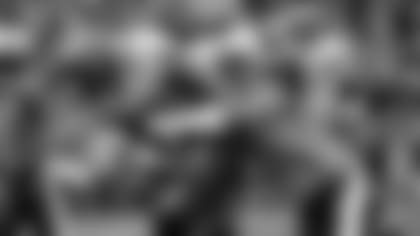 Defensive end Jason Jones strips the ball away from Buccaneers running back LeGarrette Blount.
NASHVILLE, Tenn. — Forcing a fumble from behind is usually credited as an effort play.
Titans defensive coordinator Jerry Gray calls it the "Stack Monster," an entity that can quickly sway momentum from team to team.
There were multiple sightings in Tennessee last Sunday, including the second play of the game.
Defensive lineman Jason Jones spun around, spotted Tampa Bay running back LeGarrette Blount ahead of him and pursued the pigskin. Jones popped the ball loose, and Jason McCourty recovered it.  
"We tell our defensive linemen all the time — we call it the Stack Monster — if you get out of the stack and you run, running backs never know where you are, Gray said. "All of a sudden, he may be throwing a move on the guy in front of him, and you cause the fumble. You're busting your tail, you're doing what you're supposed to do, good things happen," Gray said.
The pursuit play is a product of hustle and determination.
"Our D-line coach (Tracy Rocker) always says get out of the stack if it's a screen or something else like that cause we're the ones that are going to help everyone else out. It's important for us to run after the ball. Most of the time those running backs think they've got a clear shot, so you come from behind them, punch it out, you can change the game and get a turnover or something like that."
Jones said that type of play is a point of pride for defensive linemen because it "shows our athleticism and shows that we can actually run and chase somebody down" but it's not limited to the position. Safety Jordan Babineaux also forced a fumble from behind after Mike Williams caught a pass in the third quarter.
Cold, rainy weather made the football tough to secure for both teams, which combined for nine turnovers Sunday. Dave Ball recorded a sack fumble that he recovered against Josh Freeman, and Jurrell Casey wrestled the ball away from Blount and grabbed it as he fell down.
"I saw him running with the ball kind of loose, so my first instinct was to try to get the ball back for our offense. After I took it from him, I told teammates that I had told (Blount), 'Give me that. I need that. It's mine.' It wasn't directed toward him."
Casey said defensive players have to rev their "motors" to get to the ball on certain plays.
"You just keep going and going," Casey said. "You might get beat initially on plays but as long as you keep going, a lot of times that's when turnovers happen."
Turnovers are usually an important indicator of outcomes and will likely be so again Sunday when Tennessee (6-5) visits Buffalo (5-6). The Bills have thrived by taking the ball away from opponents with 16 interceptions (second best in the NFL) and six fumble recoveries.
Quarterback Matt Hasselbeck said Tennessee's offense must protect the football better than it did against Tampa Bay when momentum swung from team to team like a pendulum.
"Everyone talks about getting turnovers," Hasselbeck said. "These guys are doing a really good job statistically. They're not high on the sheet in any category — against the run, against the pass, touchdowns, not of that — but when it comes to takeaways, which is a very important stat, they are top five, whether you're talking about fumbles or interceptions. That's got to be a point of emphasis for us to protect the football."
The Titans overcame four turnovers — two interceptions and two fumbles — against the Buccaneers by forcing five. Tennessee is plus-3 in turnover margin this season and wants to keep increasing that number in the final five games of the year.
"When you get to the ball, good things happen," safety Chris Hope said. "You've got to find a way to create turnovers. Anything and everything helps. Any turnover is crucial, any extra effort to stop someone from getting a first down is important, so that's what you have to do."