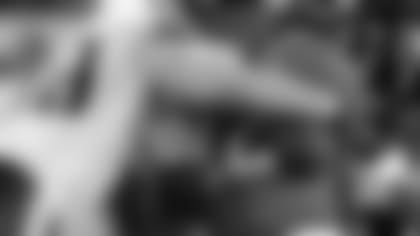 The Titans will look to limit the production of Jaguars RB Maurice Jones-Drew on Sunday.
NASHVILLE, Tenn. -- Sen'Derrick Marks received the call and got the message.
Marks, a defensive tackle entering his third year, received a phone call from defensive line coach Tracy Rocker shortly after Rocker was hired by new Titans coach Mike Munchak.
"They said we're going to focus on stopping the run, so get ready to anchor down," Marks said. "We already knew what the mentality was before we started (training) camp. A lot of guys knew it, and it was their mentality coming in."
In addition to Marks, the Titans drafted defensive tackles Jurrell Casey (third round), Karl Klug (fifth round) and Zach Clayton (seventh round) and signed 325-pound free agent Shaun Smith as an unrestricted free agent from the Kansas City Chiefs. Tennessee then began plans to move Jason Jones (276 pounds) to defensive end. Malcolm Sheppard, who joined the Titans late last season and earned a roster spot in training camp, is expected to play defensive tackle but may, along with Klug, take a few snaps at defensive end.
The Titans' rebuilt defensive line is the starting point for stopping the run, but Smith said the overall effectiveness against the run also includes linebackers and safeties. The run defense will encounter a substantial test Sunday when Tennessee opens its regular season in Jacksonville, which owned the league's third-ranked rushing attack in 2010.
This will be the third time in five seasons that the opener has matched the AFC South rivals, with Tennessee winning the first two. When the teams last played (Dec. 5), however, the Jaguars ran wild.
Jacksonville opened the game with a 77-yard touchdown drive, yielding 71 yards from 11 run plays and getting the remainder on a short pass. The Jaguars outgained the Titans 377 to 220 yards for the game and ran 53 times for 258 yards, including 186 yards on 31 rushing attempts by Maurice Jones-Drew.
"We watched the film (from the December game)," Smith said. "It was a lot of missed tackles last time and guys were out of their gaps. With a back like Maurice Jones-Drew, you've got to stay in your gap and play fundamentally sound—tackle and wrap up."
At 5-foot-7 and 205 pounds, Jones-Drew can be difficult to tackle when he has his momentum going.
"He can be very, very difficult to tackle, so it's going to take more than one guy to get him down," safety Chris Hope said. "If everybody keeps their gap integrity, if everyone gets to the ball, it will be a lot better than it was last time."
Jacksonville is expected to rely heavily on Jones-Drew. The Jaguars released 10-year NFL veteran David Garrard this week and named Luke McCown their starting quarterback. Although McCown has spent eight years in the league, his most recent start was in 2007 with Tampa Bay. McCown has appeared in six games the past three seasons, going 12-for-23 for 122 yards in that span.
Marks and Smith said the timing of Garrard's release was surprising but they want to stop whoever is in the backfield, beginning with the run game.
"I take pride in not giving up a 100-yard rusher," Smith said. "Everybody knows, especially with Garrard getting released, the focus is on (Jones-Drew). I feel like we've been watching enough film that we know some of their favorite runs. It's just lining up and stopping it now."