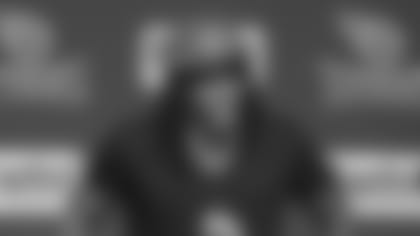 Titans running back Chris Johnson fields questions from reporters during a press conference Friday at Baptist Sports Park.
NASHVILLE, Tenn. -Chris Johnson has his four-year contract extension worth $53 million and the $30 million guaranteed he wanted. Now the three-time Pro Bowl running back is again setting his sights high.
And he wants to take the Titans with him.
"We haven't been to the playoffs in two years, so I want to get back to the playoffs, hopefully win the Super Bowl here," Johnson said Friday night. "I've got a lot of team goals. We haven't been in the postseason so that's the big thing this team hasn't done, and I always got that goal to rush for 2,000 yards again."
Johnson spoke to reporters after signing his extension. He agreed to the deal Thursday and flew into Nashville from his Orlando, Fla., home Friday.
The Titans' last playoff berth was during Johnson's rookie season in 2008, and he didn't make it to halftime of a loss to Baltimore because of an ankle injury that also kept him out of the Pro Bowl. That could be a tough task for a team that went 6-10 last season and now featuring a new coach in Mike Munchak and new quarterback in Matt Hasselbeck.
But the running back pointed out he set the goal of running for 2,000 yards going into his second NFL season, then became only the sixth man in league history to do just that with 2,006 yards.
"I don't think expectations can be any higher than that," Johnson said.
Johnson has led the NFL with 4,598 yards rushing over his first three seasons. For now, he's the NFL's highest paid running back averaging $13.38 million a year over the next four years and $9.25 million per year over the six years taking him through 2016. The $30 million guaranteed is what he said he wanted back in 2010 when he first talked of wanting a new contact.
Holding out wasn't easy. Johnson said it was tough when the NFL lockout ended and all the players he worked out with in Orlando headed back to their teams, leaving him to keep conditioning on his own. He talked often with Rams running back Steven Jackson and Jets cornerback Darrelle Revis during his holdout, which reached the 35th day Thursday.
Johnson compared the negotiations to a family argument with no bad blood ever created. But the running back said he couldn't watch the Titans (3-1) when he couldn't join his teammates.
"I feel like to actually hold out is nerve-racking on the player and the team. You've got to have a strong mind and just you've got to pray and hopefully things go well," Johnson said. "To be honest, you never know how things are going to go at the end of the day."
Agent Joel Segal said he thinks both Johnson and the Titans got a great deal.
"He's more excited to play football now than anything else," Segal said.
Now Johnson has to study the playbook with new offensive coordinator Chris Palmer and running backs coach Jim Skipper. Munchak said earlier Friday they will see what type of shape Johnson is in and be cautious working him onto the field before the season opener Sept. 11 in Jacksonville.
"He is here 10 days before we have to play a game so he has quite a bit of time to get ready to play," Munchak said.
Munchak said finally getting Johnson back with the team feels like getting the last piece of the puzzle, and that's because Johnson has meant so much to the Tennessee offense since he was drafted 24th overall in 2008. The Titans return all five starting offensive linemen from a year ago when Johnson ran for 1,364 yards, and they opened some big holes in the preseason.
Hasselbeck said after Thursday night's 32-9 win over New Orleans that he's looking forward to exciting things from Johnson.
"I know he's explosive and electric, and I can't wait to see him play real soon," Hasselbeck said.
Johnson has other plans for the opener. He said he talked often with running back Javon Ringer about the changes in the offense. Yes, he'll listen to the coaches, but Johnson said he's the kind of player who wants every snap he can get and to carry the team on his back.
So will he play against Jacksonville?
"They just gave me the contract, so I'm pretty sure," Johnson said.
Munchak said he knows Johnson will be eager to prove the kind of player he is.
"He's not very bashful when it comes to what he thinks he can accomplish, and that's a good thing so we're going to have to be careful to make sure we don't over do it, especially early," Munchak said.