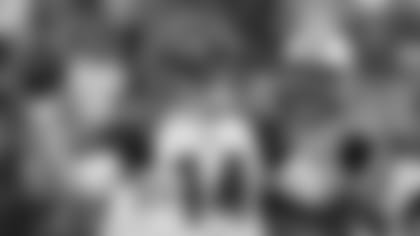 Rookie QB Andy Dalton was cool under pressure, throwing for 217 yards and three touchdowns.
NASHVILLE, Tenn. -The Cincinnati Bengals are on a roll unlike anything seen by this franchise since 1988 with five straight wins, and coach Marvin Lewis says it doesn't matter.
"Half of these guys weren't even alive 23 years ago," Lewis said.
Rookie Andy Dalton threw for three touchdowns and 217 yards, and the Cincinnati Bengals rallied from a 10-point deficit and beat the Tennessee Titans 24-17 Sunday for their fifth straight victory.
The Bengals (6-2) last won five in a row in 1988 when they took the AFC championship and went to their second Super Bowl. They also improved to 4-1 on the road with the rookie quarterback leading the Bengals to 17 unanswered points as he tossed TD passes to three different receivers.
"Our quarterback has done a nice job," Lewis said. "It was loud out there, louder than we expected. I think he's done a nice job of handling that. He doesn't get unnerved, he just keeps coming back and just playing."
Tennessee (4-4) has lost two of three to wrap up a three-game homestand. Chris Johnson had 110 yards from scrimmage, but the Titans blew a 17-7 halftime lead when the offense shut down in the second half.
Tennessee managed just 95 yards in the final 30 minutes with 30 on the final play that came up well short of the end zone. The Titans also held the ball just 4 minutes, 28 seconds of the fourth quarter in what coach Mike Munchak called a very disappointing loss.
"We didn't make a play the whole second half, and then the defense took their turn and we couldn't make a stop," Munchak said.
Cincinnati came in with the fourth-stingiest defense in the NFL, and the Bengals helped shut down the Titans in the second half. Carlos Dunlap had two sacks, and Nate Clements stripped the ball for the lone turnover. Clements forced Titans tight end Jared Cook to fumble at the end of an 8-yard gain to give Cincinnati the ball at the Tennessee 20 with 3:49 left.
Mike Nugent kicked a 36-yard field goal for the final margin.
Tennessee got the ball back with one last shot, but struggled with two 10-second runoffs and no timeouts. Lavelle Hawkins was tackled after a 30-yard gain to the Cincinnati 32 after time expired with Johnson nearby ready for a lateral.
"I guess he just didn't see me," Johnson said.
Now the Bengals head into the toughest part of their schedule two wins ahead of their total of last season. Cincinnati faces the Steelers twice and the Ravens once in its next four games.
"We're at where we want to be now, and that's in the thick of things in our division," said Bengals rookie receiver A.J. Green, who caught seven passes for 83 yards.
"We've got some division games coming up that are going to be tough, but I feel like this team right here is going to fight and compete in every game."
They took over after halftime, outgaining Tennessee 97-8 in total offense in the third quarter. Dalton took advantage of a defensive pass interference play to set up his second TD pass, a 15-yarder to Jerome Simpson.
The rookie QB from Texas Christian then drove the Bengals 75 yards using up 6 minutes, 55 seconds before finding Andre Caldwell for a 5-yard TD with 10:52 left and a 21-17 lead that Cincinnati never lost.
"We're doing whatever we have to do to win the game, and that's the biggest thing for the season," Dalton said.
Johnson ran pretty well at times and finished with 64 yards rushing and 46 yards receiving. But the Titans wasted their best field position at the Cincinnati 49 on the opening possession of the third quarter.
In a sign of how much they would struggle, they wound up going backward with a penalty and went three-and-out.
The Titans had all the momentum at halftime after scoring two touchdowns in the second quarter. Matt Hasselbeck was 10 of 13 for 117 yards with a 143.3 passer rating in the quarter, tossing an 8-yard TD pass to Damian Williams where the second-year receiver tapped his toes in at the back of the end zone before falling out.
Hasselbeck then found Hawkins in the back right corner for a 16-yard TD pass 8 seconds before the half for a 17-7 lead.
NOTES: The Bengals missed scoring a defensive TD for a fourth straight week when officials overruled a call that Hasselbeck's pass was backward when Dunlap knocked it down and recovered it in the end zone. Replay showed Hasselbeck's pass was going forward when Dunlap hit it. ... The Titans are 5-3 against Cincinnati since moving to Tennessee, but the Bengals have won two straight in Nashville. ... Titans DE Dave Ball had a concussion. Munchak said WR Nate Washington hurt his hip, and Hawkins dislocated a finger before returning to the game. TE Jared Cook hurt his lower leg on the fumble.