**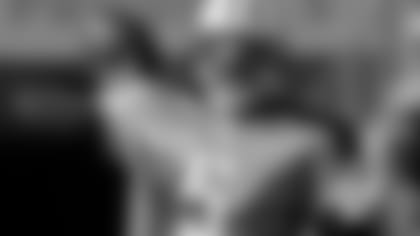 Collins needs 13 completions to move past Joe Montana for ninth all-time and 334 passing yards to pass Johnny Unitas for 11th all-time.
NASHVILLE, Tenn. --** Durability and determination have helped Kerry Collins climb the list of the NFL's most prolific passers.
Collins, who is in his 16th season in the NFL and fifth with the Titans, needs 13 completions to move past Joe Montana for ninth all-time and 334 passing yards to pass Johnny Unitas for 11th all-time.
"Honestly, he's one of the greatest all-time — legendary status as far as NFL quarterbacks go," Collins said when asked about Unitas. "It's cool, but I don't know if it hasn't hit me or if it's ever going to hit me. I'm just focused on what we're doing here. Maybe later down the road, I'll look back and see it as a nice accomplishment."
Collins said that moving in on Montana, Unitas and the possibility of becoming just the 12th player in history to pass for 40,000 yards is "nice, but I've never been one of those guys to look and see where I'm at. I'm just really worried about trying to get a win."
While 16 seasons allow opportunities to assimilate passing stats, they also present recurrences of old injuries. Such is the case this week. Collins did not practice Wednesday in order to rest a thumb injury from several seasons ago that was aggravated against Philadelphia in October and against Houston on Sunday.
"I took (Wednesday) to quiet it down a little more," Collins said. "They'll both be good enough for Sunday. It happened in the Philly game. It was one of those things where it was kind of an issue. I've been able to get through it. It's an old injury that happened when I was with the Raiders. It kind of popped up again."
Collins started the season as a backup behind fifth-year pro Vince Young and relieved Young at Jacksonville on Oct. 18. Collins injured a tendon in the middle finger of his throwing hand but persevered and started the following week against Philadelphia. Collins suffered a calf injury in a start at Miami on Nov. 14 and returned to the Titans' lineup on Dec. 5 against the Jaguars. Young suffered a season-ending injury against Washington on Nov. 21 while Collins was still out of the lineup.
The Titans (6-8) visit Kansas City (9-5) at noon Sunday. Tennessee must win its final two games, and Jacksonville and Indianapolis must lose their final two games for the Titans to win the AFC South via a tiebreaker.
 Collins said he will be in the lineup on Sunday.
"If I'm healthy enough to play, in my mind, I'm healthy," he said.
After going more than three full games (started by three different quarterbacks) without an offensive touchdown, the Titans have scored four touchdowns in each of their past two games.
Collins said tempo and rhythm have improved.
"We're playing as a more cohesive unit, one, but also we're playing faster," Collins said. "Our tempo has been better in practice, and it's carrying over in games."
Tennessee converted a pair of fourth downs in the first quarter in building a 21-0 lead against Houston, forcing the Texans to pass much more than run the ball. Houston attempted 54 passes, compared to 17 rushing attempts. The Titans' lead took rushing opportunities away from Arian Foster, who leads the NFL with 1,345 yards this season, and held him to a season-low 15 yards on 11 carries.
Titans coach Jeff Fisher said Tennessee will have a similar mindset at Kansas City Sunday to limit the Chiefs' league-leading 168.6 yards per game. Jamaal Charles ranks third in the NFL in rushing this season with 1,303 yards on 203 carries (6.4 per attempt), and Thomas Jones has 828 yards on 212 carries.
"Well, you take the same approach that we took last week, and that is to score points," Fisher said. "We're going to have to score a bunch of points and hopefully try and create a situation where they're one dimensional. They've been behind and just kept handing it off, handing it off so we're going to have to load it up and put a lot of pressure on the secondary."
Collins said Kansas City quarterback Matt Cassel is another reason the Chiefs are one win away from matching their win total of the past three seasons combined. Cassel is 227-for-383 for 2,687 yards with 24 touchdowns and five interceptions this season. He missed one game at San Diego on Dec. 12 because of an emergency appendectomy but returned to help Kansas City beat St. Louis last week.
"You've got to give them credit for what they've done," Collins said. "They're playing good, solid, fundamental football. I think Matt Cassel is playing great. Everybody talks some of the other guys but I can't see another quarterback that's having a better year than him. He's making throws, he's not making big mistakes, he's just winning ball games, and they're playing well as a unit."