**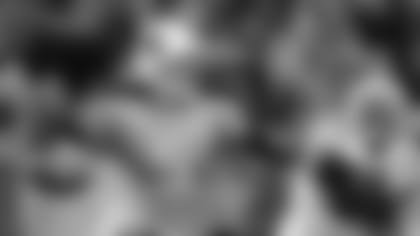 Veteran quarterback Kerry Collins is retiring from the NFL following 16 seasons in the league, including the last five with the Tennessee Titans.
NASHVILLE, Tenn. --** Kerry Collins is retiring from the NFL.
The veteran quarterback made the announcement today following 16 seasons in the league, including the last five with the Tennessee Titans.
Titans head coach Mike Munchak appreciates the leadership Collins always demonstrated through his work ethic.
"Kerry had a great NFL career and we have been very fortunate to have had him with our organization for the last five years," Munchak said. "I really enjoyed working with him.  He was a true pro who loved the game.  His work ethic and commitment were a great example to his teammates of what it took to be successful in this league."
Collins, 38, enjoyed his best season with the Titans in 2008, when he took over for an injured Vince Young and started 15 games, going 12-3 as the team won the AFC South. Collins then signed a two-year, $15 million contract that expired after the 2010 season.
Titans GM Mike Reinfeldt said the Titans were fortunate to have Collins on the roster for the last five years.
"Kerry accomplished a great deal in his career, both personally and as the leader of some great teams," Reinfeldt said. "He was a talented passer and became a true professional.  We were fortunate to have him as a member of our team over the last five years and we wish him and his family the best."
Collins threw for 40,441 yards, 11th on the NFL's all-time list, with 206 touchdowns and 195 interceptions in his career. In addition to the Titans, he played for the Carolina Panthers (1995-98), New Orleans Saints (1998), New York Giants (1999-2003) and Oakland Raiders (2004-05). He led the Giants to Super Bowl XXXV (a loss to the Baltimore Ravens) and made two Pro Bowls.
Collins was the fifth overall pick by Carolina in the 1995 NFL draft after playing at Penn State.
The Titans currently have three quarterbacks on their roster -- top draft pick Jake Locker and second-year pros Rusty Smith and Brett Ratliff.
"After 16 fulfilling years of playing quarterback in the NFL, I am officially announcing my retirement from professional football. The past several months have brought on much introspection, and I have decided that while my desire to compete on Sundays is still and always will be there, my willingness to commit to the preparation necessary to play another season has waned to a level that I feel is no longer adequate to meet the demands of the position.
"I feel very fortunate to have played with and to have been coached by some of the greatest the game has ever seen. I feel especially fortunate to have played under some of the true patriarchs of the modern game: Joe Paterno, the late Wellington Mara, Al Davis and Bud Adams. I would like to thank all of those coaches, players and other team personnel along the way who have shaped me both personally and professionally. I want to wish Mike Munchak and the Tennessee Titans the best of luck in the future. I have had a fantastic five years here, and my family and I look forward to remaining part of the Middle Tennessee community that has been extremely gracious towards us and an honor to play for.
"I owe a huge debt of gratitude to my family, especially my wife Brooke and daughter Riley, for their support. I would also like to extend special thanks to my agent Dave Dunn and the entire staff at Athletes First for their guidance throughout my career. Most of all, I would like to thank the fans who have supported me during my time at Penn State and my tenure in the NFL. It has been a wonderful journey, one that I will look back upon with the fondest of memories."
COLLINS CAREER HIGHLIGHTS
•  Collins ranks second among active quarterbacks (Peyton Manning) and 11th in NFL history in career passing yards (40,441). He also ranks second among active players and ninth in NFL history in career pass completions (3,439).
•  Has engineered 30 career game-winning performances, leading his team to victory after a fourth-quarter deficit or tie (six with the Titans).
•  In the 2010 season finale at Indianapolis (1/2/11), he moved past Johnny Unitas (40,239 career yards) for 11th place on the NFL's all-time passing yards list.  He reached the mark while recording his first 300-yard passing game as a member of the Titans.
•  At Kansas City on Dec. 26, 2010, he moved past Joe Montana (3,409 career completions) for ninth place on the NFL's all-time pass completions list.
•  In his first 16 NFL seasons (1995-2010), Collins connected on touchdown passes with 47 different receivers.
•  In 2008, the veteran signal caller earned his second career Pro Bowl selection after starting the final 15 games and leading the Titans to the NFL's best record.  Collins finished the season with an 80.2 passer rating, the third-best mark of his career, and he became just the 15th player in NFL history to surpass 35,000 career passing yards.
•  In 2005, Collins started 15 games and attempted 565 passes, the second-most in Raiders history (618 by Rich Gannon in 2002).  He passed for 3,759 yards and 20 touchdowns on 302 completions.  It was the sixth consecutive season in which he passed for more than 3,000 yards.
•  In 2002 with the Giants, Collins enjoyed the most prolific season by a quarterback in Giants history. He set a team record, was first in the NFC and was fourth in the NFL with 4,073 passing yards, surpassing Phil Simms' 1984 record of 4,044 yards.  His 545 passes were the second-highest total in team history behind his own 2001 mark of 568 attempts.  Collins recorded career highs in 2002 for completions (335), completion percentage (61.5 percent), passing yards (4,073) and passer rating (85.4).
•  In 2000, Collins passed the 3,000-yard marker for the first time in his career and posted a career-high 22 touchdowns as he led the Giants to Super Bowl XXXV.
• He earned a Pro Bowl appearance in 1996 after he led the Panthers to the NFC Championship Game in his second season as a signal caller in the NFL.