**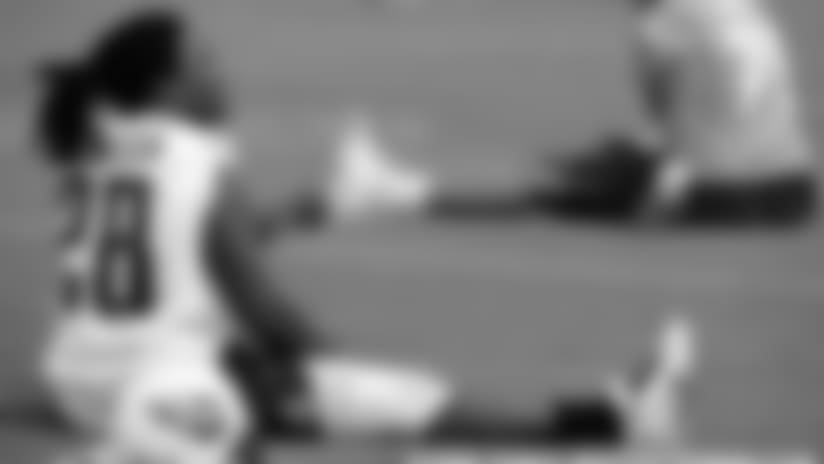 Running back Chris Johnson stretches prior to Saturday's training camp at Baptist Sports Park.
NASHVILLE, Tenn.** - Chris Johnson is smiling and joking with Vince Young. He also has some sore legs after his first practice of training camp with the Tennessee Titans.
Not because the All-Pro running back didn't work hard enough this offseason when he stayed away, looking for a long-term contract. No, he delayed taking the conditioning test until just a couple hours before that first practice. Needing to run the 300-yard shuttle in under 60 seconds, Johnson passed.
How fast did the fastest man ever timed at the NFL Combine with a 4.24-second 40-yard dash run?
"I'm not sure. I just know I passed,'' Johnson said with a smile Saturday.
Coach Jeff Fisher said Johnson looked real good in his first glimpse at the running back since the Titans wrapped up the 2009 season.
"He's in shape. He got the times confused a little bit, so he ran his shuttle test a little closer to practice than everybody else. So he was a little tired, but he'll be fine tomorrow,'' Fisher said.
The Tennessee Titans opened training camp Saturday with the two players who stayed away from the team the entire offseason looking for long-term contracts on the field in Johnson and middle linebacker Stephen Tulloch, though likely not as happy as the All-Pro running back.
Also on hand is receiver Damian Williams, their third-round pick who agreed to terms Friday night though a sore right hamstring has him on the physically unable to perform list.
But the Titans started without their first-round draft pick, defensive end Derrick Morgan. Team officials had hoped to wrap up a contract with the 16th pick overall out of Georgia Tech before the first practice of camp. They didn't manage that but reached agreement on a reported five-year deal Saturday night so he can be on the field Sunday.
Morgan has been staying in town so he drove over Saturday night to sign his first NFL contract. He also tweeted a photo of boxes of donuts in front of him in the break room where he waited.
"And this is what they got on the table knowin I got to weigh in 2moro,'' Morgan tweeted with the picture.
The Titans also placed five other players on the physically unable to perform list, including starting defensive tackle Tony Brown and linebacker David Thornton, who is recovering from shoulder surgery that ended his 2009 season early.
Brown had surgery on his right knee and spent the offseason rehabbing. Safety Nick Schommer, cornerback Jamar Love and fullback Willie Rose also are on the PUP list. Fisher said some players will be on the list for a day, two or maybe a week.
"But we just felt like we still had some work to do before we clear him for practice,'' Fisher said of Brown.
The Titans made Johnson happy for 2010 by reshuffling some money from 2012 to go with his $550,000 salary. Tulloch didn't get his deal and wound up signing his $2.52 million tender just before the deadline when the team could have reduced that amount.
"It opened my eyes a lot to see how serious this business is, and you can see just that side is not just playing on Sundays,'' Johnson said. "It's real serious on the other end.''
Johnson has his own plan to help force the Titans' hand in negotiations after this season: Bust Eric Dickerson's all-time rushing record of 2,105 yards and become the first man in NFL history to run for at least 2,000 yards in consecutive seasons. That also should earn him NFL MVP honors as well.
"I was close to doing it last year. That gives me motivation to do it this year,'' Johnson said after running for 2,006 yards in 2009.
Tulloch is in a little different situation. He would have been an unrestricted free agent this year if not for the labor agreement being in its final year, turning him into a restricted free agent. He declined to say if he stayed away because he was unhappy and wanted a long-term deal, saying he left that to his agent, Drew Rosenhaus.
He spent his offseason training in Miami, and the Titans' leading tackler last season is being counted on heavily to lead a defense missing end Kyle Vanden Bosch (Detroit) and outside linebacker Keith Bulluck (now with the Giants). Tulloch said he's in the best shape of his life.
"I'm going to keep working to be the best,'' Tulloch said.
NOTES: Receiver Justin Gage needed fluids intravenously after practice, but not because of a heat index that reached 100 degrees. He has had an intestinal problem and left practice early. ... CB Tye Hill, one of four competing to start opposite Cortland Finnegan, had ice on the back of his right leg. He missed his turn at the rotation during the organized team sessions when he hurt a hamstring. ... DE Jason Jones practiced with the team for the first time since having shoulder surgery last December.