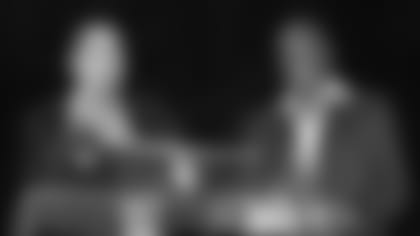 George Plaster (left) of Nashville radio station 104.5 The Zone introduces Titans LB Keith Bulluck as the winner of the Community Spirit Award.
NASHVILLE, Tenn. --** The Nashville Sports Council tonight honored the best in Middle Tennessee sports at the 12th Annual O'Charley's Dinner of Champions.

The event recognizes accomplishments for the preceding calendar year. Award recipients were honored at the event attended by 600 attendees at the Renaissance Nashville Hotel.

"We applaud all of the nominees and award recipients whose outstanding accomplishments represent everything positive that comes from participating in sports. We are thrilled that they were a part of Middle Tennessee's defining sports moments in 2009 and gave the region so many reasons to cheer," said Jeff Warne, O'Charley's Inc. president and CEO.

• Sports Person of the Year: Chris Johnson, Tennessee Titans

• Fred Russell Lifetime Achievement: Ronnie Carter, retired TSSAA Executive Director

• Community Spirit Award: Keith Bulluck, Tennessee Titans

• Ed Temple Amateur Athlete of the Year: Bryce Brentz, Middle Tennessee State University

• Kaia Jergenson Courage Award: Rick Slaughter

• High School Male Athletics: John Jenkins, Station Camp High School Basketball

• High School Female Athletics: Jasmine Hassell, Wilson Central High School Basketball

• High School Male Team Athletics: Beech High School Football

• High School Female Team Athletics: Hillsboro High School Basketball

• Sergeant York Trophy: Tennessee Tech University

• Nashville Sports Council Volunteer of the Year: Ben Davis

• Nashville Sports Council Good Sports Program Scholarship Winners: Bethany Krisle, Springfield High School; Cody Simons, Martin Luther King High School

Also recognized during the event were the Top 10 Sports Moments of the Year for 2009 as voted on by Middle Tennessee sports media.

Top 10 Sports Moments of 2009

1 — Chris Johnson: At the conclusion of 2009, Johnson had 322 carries for 1,872 yards and 12 touchdowns. He has also caught 47 passes for 483 yards and 2 touchdowns giving him a league high 2,355 total yards from scrimmage. Against the Jacksonville Jaguars, Johnson broke open a 13-point tie with a 52-yard touchdown run in the third quarter, and then followed that by breaking two tackles on his way to an 89-yard touchdown run in the fourth quarter. His 228 rushing yards on 24 carries broke the Titans' single-game franchise record.

2 — Tennessee Titans: The Titans were down 17-13, with the ball at their own one-yard line and 2:37 left in the game. On the subsequent 18-play drive, Vince Young converted three fourth-down chances and completed 9 of 16 passes for 76 yards and the touchdown to rookie Kenny Britt to win the game.

3 — Hillsboro High School Girls Basketball: The Burros finished the season with a 34-1 record and a state title, earning the school's first girls' basketball state championship and making them the first Metro Nashville High School state champion in 29 years. In the state championship game, Hillsboro defeated top ranked Memphis Central 62-61 with a last second shot by Jessica Pace. During the championship game, the team had 136 rebounds, a new tournament record.

4 — Middle Tennessee State University Football: The Blue Raiders capped a 10-win season by winning the New Orleans Bowl on ESPN against Southern Miss, 42-32, before a record crowd at the Superdome. It was the first bowl win for the Blue Raiders as they extended their winning streak to seven games. MTSU also became the first Sun Belt team to ever record 10 wins in a season.

5 — Nashville Predators: The Nashville Predators defeated defending NHL Champions the Detroit Red Wings 8-0. The eight-goal margin of victory set a new team record and the team had 5 goals in the first 11 minutes. Captain Jason Arnott provided the team with a hat trick that set him apart from any other goal scorer in Predators franchise history. The second of his three goals was the 25th goal of the season and made him the only player to have 25 or more goals in three separate seasons.

6 — Warren Norman: A key player in Vanderbilt's running game, Norman moved into second place on Vanderbilt's list of all-time freshman rushers. He was named SEC Freshman of the Year by Sporting News, SEC Coaches and AP beat writers. In the 1st quarter against UT, Norman had a 23 yard kickoff return that broke Herschel Walker's 29 year record of 1,805 all purpose yards for a freshman. For the season, Norman had 783 yards rushing, 1,050 yards on returns and 1,951 all-purpose yards.

7 — Beech High School Football Team: With only six returning starters and a recent move from Division 4A to Division 5A, the Beech Football team defied all odds by winning their first State Championship. The Buccaneers defeated Columbia 47-33 to win the 5A State Championship; quarterback Jarod Neal tied a state championship game record with 4 passing touchdowns. Ethan Walker, Travis Haymer and Jonathon Sites teamed for 273 rushing yards and a pair of touchdowns in the Bucs 7th straight victory. The Tennessean's All Mid-State Football Coach of the Year, Anthony Crabtree, and his team finished with an impressive 6-1 record in their division and a 13-2 record overall.

8 — John Jenkins: One of the most talented basketball players in Station Camp history, John Jenkins impressed many by averaging 42.3 points a game and never scoring less than 30 points in a game. With his point per game average, he was named the nation's leading scorer. In a rival game against Gallatin High School, Jenkins scored 60 points on his way to being named the Class AA Mr. Basketball for the second year in a row and the 2009 Gatorade Player of the Year. Ending his high school career with 3,192 points, Jenkins was #10 in career points in the history of Tennessee high school basketball.

9. — Vanderbilt Women's Basketball: The number 23rd ranked Commodores took on 5th ranked Auburn in the SEC Women's Basketball Championship game. Vanderbilt clinched a 61-–54 victory over the Lady Tigers with some crucial three-point baskets at the end of the game. The Commodores advanced through the NCAA Tournament with wins over Western Carolina University and Kansas State University. Vanderbilt reached the Sweet 16 round of the tournament for the 14th time in school history.

10 — Alcides Escobar: Escobar (Nashville Sounds) was named to Topps' Minor League All-Star team and was named the Pacific Coast League's "Most Exciting Player". According to Baseball America, Escobar entered the year as the top prospect in the Brewers organization– batted .298 with four home runs, 34 RBIs, and 42 stolen bases in 109 games with the Sounds before being called up by Milwaukee on August 12. He ranked 8th in the PCL in hits (128) at the time of his promotion. Escobar ranked 6th in the PCL in runs scored (76) and 2nd in the circuit in stolen bases (42) when summoned by the Brewers.

The O'Charley's Dinner of Champions was created in 1999 and is Nashville's premier sports awards event saluting amateur and professional sporting events in Middle Tennessee.

About the Nashville Sports Council

The Nashville Sports Council is a private, non-profit, membership-based organization of area corporations and individual sports enthusiasts. Created in 1992, the Nashville Sports Council's mission is to positively impact the economy and quality of life of the Greater Nashville Area by attracting and promoting professional and amateur sporting events. The Nashville Sports Council has hosted more than 130 major sporting events that have produced more than $366 million in direct economic impact for the region. For more information call 615.743.3120 or visit NashvilleSports.com.