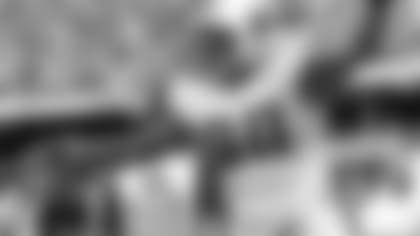 Defensive end Derrick Morgan celebrates after stuffing Broncos RB Willis McGahee on 4th-and-goal early in the fourth quarter.
NASHVILLE, Tenn. - Denver coach John Fox would do it again.
On a crucial fourth-and-goal from about a foot out early in the fourth quarter, Fox called a timeout and pulled his kicker off the field. He sent the offense back out to punch the ball in to the end zone looking for a bigger lead, already up 14-10.
The Tennessee Titans stonewalled Willis McGahee for no gain, and the Titans rallied for a 17-14 win Sunday.
"I think at the end of the day on the road, fourth and not even a full yard, I'd do it again next week,'' Fox said. "We've got to be able to get that and get that in. Unfortunately, we didn't.''
Two possessions later, Denver's defense gave up a 95-yard scoring drive highlighted by quarterback Matt Hasselbeck's 58-yard toss to tight end Craig Stevens down to the Broncos 24. Daniel Graham, a former Broncos tight end and team captain, added to the insult by catching his first pass with Tennessee, a 4-yard touchdown from Hasselbeck with 4:24 left.
Fox said he reconsidered the field goal because of the location. Matt Prater lined up for a 19-yarder before Fox took the timeout.
"Sometimes it's hard to tell where the ball is spotted. From what we got upstairs, it was six inches and we felt like we could get it in,'' Fox said.
McGahee finished with 52 yards on 22 carries, while Kyle Orton threw for 173 yards and two touchdowns. But Tennessee also sacked him once and intercepted him twice, the last to end Denver's final drive.
The Broncos (1-2) at least healed up with receiver Brandon Lloyd back on the field. Fox held out Knowshon Moreno and linebacker D.J. Williams, saying they are almost completely healthy and that he planned to play them only in an emergency. Now they prepare to head to Green Bay next.
"The locker room right now is sick to our stomach,'' linebacker Wesley Woodyard said. "We let one get away that we know we had a chance to win and that we should have won, so it hurts.''
Denver shut down Chris Johnson, holding him to 21 yards on 13 carries. Tennessee also lost Kenny Britt, the AFC's leading receiver, in the second quarter.
The Broncos couldn't stop Hasselbeck, who threw for 311 yards and two TDs. Hasselbeck took control on the go-ahead drive that started at the Tennessee 5, completing passes to five different receivers, with the longest the pass to Stevens. He also tossed a 14-yard TD to Nate Washington.
Titans coach Mike Munchak said not many quarterbacks could've handled losing Britt along with the struggling run game.
"He came here to win,'' Munchak said of Hasselbeck. "He didn't come here to retire quietly. He came here to make a difference and win, and he's doing that for us.''
Britt was hurt with 5:55 left in the second quarter. He had just caught a swing pass from Hasselbeck, eluded a tackler and tried to turn upfield when he fell to the ground and lost the ball.
Denver called the Titans dirty a year ago after winning in Nashville. Tennessee racked up a season-high 11 penalties for 80 yards compared to just one for Denver on a facemask Sunday.
But Tennessee outgained the Broncos 333-231. Denver but didn't score a point off two fumbles recovered. That included a fumble by Hasselbeck recovered at the Titans 13 late in the third quarter.
At the end of that drive, Fox made up his mind to go for it. Derrick Morgan, Tennessee's first-round pick a year ago, stopped McGahee for no gain.
"If we would have scored, we would have won, no doubt about it,'' McGahee said.
The Titans led 10-7 at halftime before Orton took control of the third quarter with a 16-play drive using up more than eight minutes. He converted four third downs with completions, the last a 5-yarder to McGahee for a TD and a 14-10 lead with 1:17 left in the quarter. Orton was 9 of 10 for 51 yards on the drive.
Denver rookie Von Miller sacked Hasselbeck, knocking the ball loose, on the ensuing drive. That gave Denver the ball at the Titans 13 and seemingly all the momentum.