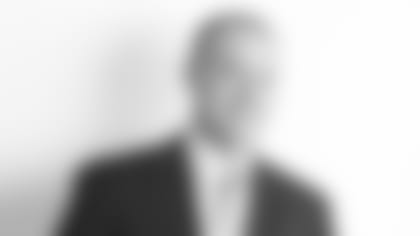 Titans kicker Rob Bironas
LOUISVILLE, Ky. -- Titans kicker and former four-sport athlete at Trinity High School in Louisville, Rob Bironas will be inducted into the Kentucky Pro Football Hall of Fame at a special induction ceremony at the Louisville Palace on June 15.
Bironas attended Auburn University and Georgia Southern University as a placekicker. Following tenures on the off-season roster of the Green Bay Packers, and the preseason rosters with the Tampa Bay Buccaneers and the Pittsburgh Steelers, Bironas joined the Tennessee Titans in 2005.
The official induction ceremony will be open to the public and will take place during the Kentucky Pro Football Hall of Fame's 10th Anniversary celebration. The celebration will also include special events for inductees, sponsors, and guests, including a golf scramble and ring ceremony, occurring June 14-16 in Louisville. Tickets and more information are available at www.kyprofootballhof.com.
Bironas will be joined at the event by past inductees to the Hall of Fame, as well as four other members of the 2012 induction class: Mo Moorman, Dan Neal, Bubba Paris and Chris Redman. In addition to the naming of the 2012 inductees, the Kentucky Pro Football Hall of Fame will also honor the late Johnny Unitas, NFL Hall of Famer who played for the University of Louisville.
The event will serve as a fundraiser, benefiting the University of Louisville Autism Center at Kosair Charities.
Bironas appeared in all 16 games for the seventh consecutive season and finished seventh among kickers in AFC with 121 points in 2011. His 90.6 percent success rate was the second-highest of his career, the fourth-highest in the NFL and the third-highest in franchise history.
Bironas has posted 100 or more points in five consecutive seasons and made good on 137 of his last 153 field goal attempts (89.5 percent). Among kickers with at least 100 career field goals, he ranks third in NFL history by connecting on 86.3 percent of his kicks.
Bironas has nailed nine game-winning kicks and ranks second on the Titans/Oilers all-time scoring list with 806 career points. He set a new single-season franchise record with six total field goals from 50 yards or longer in 2011, while setting an NFL record with a field goal of at least 40 yards in 10 consecutive games.
He concluded the 2011 season with 15 consecutive made field goals, a streak that ranks sixth in team annals.
About the Kentucky Pro Football Hall of Fame
The purpose of the Kentucky Pro Football Hall of Fame is to appropriately honor persons that have brought significant recognition to the state of Kentucky, or have by their unusual successful service achieved significant accomplishment on behalf of their school, or have by a significant act or contribution distinguished themselves as an unusual former National Football League player, coach, referee, owner, management, etc. or have been a significant or unusual supporter of Pro Football. Kentucky is the only state to have its own Pro Football Hall of Fame.
About The University of Louisville Autism Center at Kosair Charities
The University of Louisville Autism Center at Kosair Charities is a one-stop resource center for individuals with an autism spectrum disorder (ASD) and their families that extends UofL's expertise for providing patient-centered care, training to educational and healthcare professionals, and supporting research by scientists and educators to advance the understanding, management and treatment of ASD. The University of Louisville Autism Center at Kosair Charities is committed to building a collaborative partnership among the area's leading autism resources, incorporating services from the Bingham Clinic, the Weisskopf Child Evaluation Center/STAR Program and the Kentucky Autism Training Center.