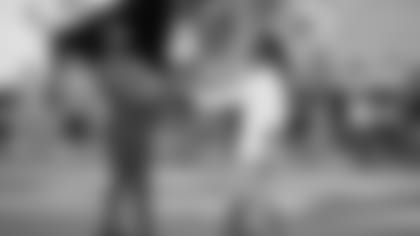 Terrell Owens greets Titans RB Chris Johnson on the field prior to the Hall of Fame Game last August. The Bills wide receiver said Friday he expects to play in Sunday's game at LP Field.
ORCHARD PARK, N.Y. --**
Buffalo Bills
receiver Terrell Owens returned to practice Friday and declared himself ready to play in Sunday's game at Tennessee.
Owens said he fell asleep on his couch Monday night after practice, and woke up feeling stiff the next morning. He was held out of practice on Wednesday and Thursday, and the team said he had a strained hip.
"Earlier in the week it was painful, but I knew I would be ready," said Owens, who is officially listed as questionable. "My couch is very comfortable, so it's easy to fall asleep on. (But) I don't know if it was the couch."
Meanwhile, the Bills will be without three starters on defense -- linebacker Keith Ellison (quad), cornerback Terrence McGee (knee) and defensive tackle Kyle Williams (knee).
Defensive end Aaron Schobel (groin) and safety Donte Whitner (ankle) are both questionable. Rookie safety Jairus Byrd (groin), who is tied for the league-lead with seven interceptions, is probable.